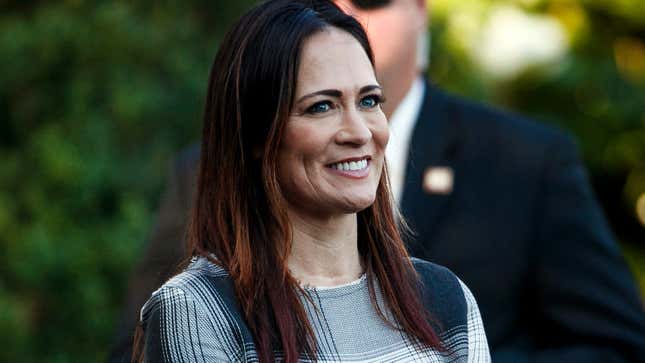 Stephanie Grisham, First Lady Melania Trump's deputy chief-of-staff and ride or die, has been tapped to be the next White House press secretary and communications director. She has been the Trump administration's rumored favorite for the role since Sarah Sanders resigned in mid-June.

Ana Gasteyer Satirizes the Girl Boss in 'American Auto'
Melania announced the news on Tuesday, tweeting: "She has been with us since 2015—@potus & I can think of no better person to serve the Administration and our country."
Of the cast of characters in the ever-dysfunctional Trump White House, Grisham has largely stayed under the radar. She rarely does televised interviews or press beyond releasing statements made on the first lady's behalf. But when she does give an interview—whew!
G/O Media may get a commission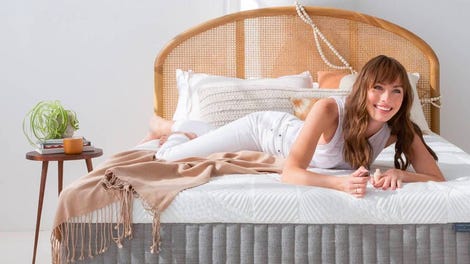 Sleep Sale
Sleep Sale - Brentwood Home
Here are some of Grisham's greatest hits to give you a little taste of the kind of lies we can expect when she becomes the White House's official mouthpiece:
First reported by the Daily Mail, Melania boarded the plane at Andrews Air Force Base on Thursday wearing a Zara military jacket that says, in quite large capital letters, "I REALLY DON'T CARE, DO U?" [...] The White House did not immediately respond to Jezebel's request for comment, but ABC reporter Meridith McGraw shared FLOTUS spokeswoman Stephanie Grisham's statement: "It's a jacket. There was no hidden message. After today's important visit to Texas, I hope this isn't what the media is going to choose to focus on."


First Lady Melania Trump's communications team, an excellent team, seems a little salty after Michelle Obama said Trump never reached out for advice or help as she settled into the role.

[...]

CNN reached out to Trump's director of communications, Stephanie Grisham, for comment. She wrote: "Mrs. Trump is a strong and independent woman who has been navigating her role as First Lady in her own way. When she needs advice on any issue, she seeks it from her professional team within the White House."
But it wasn't a clapback, she says!


"I think that, honestly, one thing really doesn't have anything to do with the other and she is focused on helping children," Grisham said. "She has said many times that her husband is an adult, he's the President of the United States, he knows what he's doing, and she's focused on Be Best, she's focused on children. Children are the ones who are impressionable right now, and so she's going to go out there and do the best that she can to help them succeed."
Grisham told CNN that Melania does not have a body double:
"Once again, we find ourselves consumed with a ridiculous non-story when we could be talking about the work the First Lady is doing on behalf of children, including the opioid crisis that is gripping our nation."
"To be on the cover of Vogue doesn't define Mrs. Trump, she's been there, done that long before she was first lady," Trump's spokesperson Stephanie Grisham told Fox News on Friday (Trump was on the cover in 2005, long before she was a first lady). "Her role as first lady of the United States and all that she does is much more important than some superficial photo shoot and cover."

[...]

"This just further demonstrates how biased the fashion magazine industry is, and shows how insecure and small-minded Anna Wintour really is," Grisham said. "Unfortunately, Mrs. Trump is used to this kind of divisive behavior."
Issa Rae of Insecure said she would hate if Melania Trump liked her show. Here was Grisham's response:
Can't wait!