As Jezebel has previously reported, My Friend Cayla is no such thing.
Cayla is, of course, a doll outfitted with recording technology so she can learn to talk better and interact more convincingly, lest anybody have to use their imagination for five minutes. It's perfect for families that like Elf on the Shelf, but worry that it's not quite dystopian enough to produce a teenager that fanatically backlashes against invasions of privacy like children of the 1950s who learned that Reefer Madness was bullshit and had to try every controlled substance they could get their hands on.
Well, Germany doesn't think much of that, the Wall Street Journal reports. That country's Federal Network Agency has been on a tear against internet-connected toys, previously putting the kibosh on "a panda bear with a camera hidden in its nose that operated as a nanny cam or baby phone and could connect to a mobile phone." And now it's Cayla's turn.
Despite her innocent looks, "My Friend Cayla" isn't a doll—at least not in the eyes of German authorities—but an illegal eavesdropping device. On Feb. 17, after a lengthy investigation, the Federal Network Agency, Germany's top telecommunications watchdog, issued an order to parents to find Cayla and destroy her. It also banned its sale, purchase and ownership.

"It's about the protection of the weakest in our society," said Jochen Homann, president of the body known as Bundesnetzagentur.
Distributor Vivid Germany GmbH begs to differ, promising to appeal: "There is no reason to destroy Cayla or give the doll away," said the company, promising that, "It isn't a spying device."
Parents who don't neutralize Cayla are technically subject to a fine and two years in prison thanks to Germany's strict privacy laws, but the agency says they're not going to track any of them down. Rather, they trust that you understand what you need to do here, according to a statement: "The Bundesnetzagentur assumes that parents will voluntarily render this doll harmless."
G/O Media may get a commission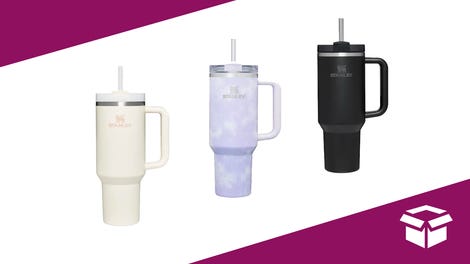 Up to 45% off
Stanley Cup Sale
It wasn't hard for the German family profiled in the Wall Street Journal piece, however, because their daughter was perfectly happy to see Cayla go:
"We thought it simply incredible that we could own such an awful thing… sitting in our child's bedroom for two years without our knowledge," said Ms. Harmann. "It's simply unbelievable what parents have to deal with these days."

She said her daughter, who found Cayla "stupid" and "ugly," parted with the bugged doll without a tear. Still, Ms. Harmann was hesitant to destroy it and donated it instead to the German Spy Museum Berlin, which had launched an appeal for unwanted Caylas.
Take that, you little snitch.