Stacey Abrams, who currently serves as the Democratic leader of the Georgia State House, announced today that she's running for governor—a bid that, if successful, would make her the first African American woman to hold that title in U.S. history.

Though Abrams is considered a top contender for replacing the state's current governor, the term-limited Republican Nathan Deal, she's well aware that she'll have her work cut out for her. The Washington Post points out that in Georgia, no Democrat has won statewide office since 2006, and that only 11 black women have ever been elected to statewide positions nationwide.
But Abrams, a staunch progressive, is confident that she can strike the delicate balance between compromising with state Republicans and maintaining her ideals, including battling restricted abortion access and "religious liberty" legislation.
"Georgia is ready for a Democratic governor. My success demonstrates that difference doesn't have to be a barrier," she told The Atlanta Journal-Constitution. "Southern politicians have to reject a notion that difference is a barrier and that we can't all be committed to progress and equality."
G/O Media may get a commission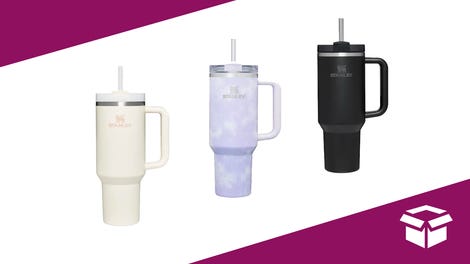 Up to 45% off
Stanley Cup Sale
In an Election Day interview with Jezebel, Abrams pointed out that Georgia's demographics have changed dramatically in the last decade, leaving ample opportunity to animate voters who might previously have stayed home. Georgia ended up leaning solidly in favor of Donald Trump, but as Abrams noted, the 2016 presidential election impelled many voters of color to the polls for the first time—voters she can now return to in her quest for support.
"In terms of mobilizing Georgia Democrats and getting us into a blue state that's permanent, you have to get traction, which means convincing voters of color and white progressives to vote more frequently, to vote not only in presidential years, but in off-year elections," she told Jezebel.
She reiterated that point in an interview with the Post:
"Democrats in the South have to reject the notion that our geography requires that politicians soften our commitment to equality and opportunity and that you have to look a certain way," Abrams said in an interview Friday. "We have to be architects of progressive solutions, and that means leadership that believes we can defy the odds. I believe Democrats have the ability to win because we have the votes."
Abrams has already scored some major endorsements—Emily's List and Democracy for America have both solidified their support. But her campaign stands to be fractured thanks to competition from State Rep. Stacey Evans, a fellow Democrat who has criticized Abrams for working with Governor Deal on cutting a state scholarship program. (Abrams says the compromise allowed Democrats negotiate fewer cuts to the state's prekindergarten program.)
Contrary to Evans's critique, Abrams maintains that it's her ability to compromise with GOP leaders that will ultimately set her apart.
"There is no conflict between cooperating where you can and competing where you should," she said.