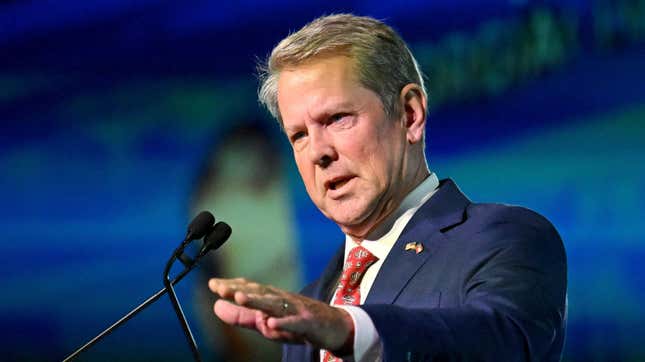 Georgia is the latest state to have its transphobic healthcare ban put on ice. On Sunday, a federal judge temporarily blocked the state's law that bans trans minors from receiving hormone therapy. The plaintiffs filed suit right before the law went into effect in July.
U.S. District Judge Sarah E. Geraghty wrote that the law amounts to discrimination on the basis of sex. "The desired outcome of the banned treatments—as no one disputes—is to begin a physical transition so that the adolescent patient's development and appearance do not conform to those expected of the patient's birth sex, but rather to the patient's gender identity," Geraghty wrote. "In other words, S.B. 140 therefore bans the use of cross-sex hormones only for those whose gender identity and [or sex at birth] are incongruent, and only for the purpose of achieving gender-nonconforming physical characteristics."
The lawsuit didn't challenge the law's ban on gender-affirming surgical care for minors, but top or bottom surgeries are rare among children. That ban remains in place. (The scarcity hasn't stopped it from becoming a favorite scare tactic among rightwing reactionaries.)
Georgia is just the latest state to be told by the courts that they can't discriminate against trans kids (and sometimes adults), even temporarily. State legislatures have introduced more than 530 anti-trans bills so far this year, compared to only 144 introduced in all of 2021. Arkansas became the first state to ever pass a ban on gender-affirming healthcare for kids in 2021, and in June, the bill was permanently blocked from going into effect by a federal judge.
In Florida, a federal judge stopped the state from blocking three trans kids whose parents sued the state to stop the state's ban on gender-affirming care. The same federal judge overturned a Ron DeSantis-championed law that wanted to ban Medicaid funds from going to gender-affirming healthcare. "The elephant in the room should be noted at the outset. Gender identity is real. The record makes this clear," District Judge Robert L. Hinkle wrote in June.
Of course, it's not all good news when it comes to gender-affirming care in the courts: An appellate court let Kentucky's ban on transgender care for minors go into effect, and the same thing happened in Tennessee. Last week, North Carolina's Republican supermajority voted to override Gov. Roy Cooper's (D) veto against a bill banning gender affirming care for minors.
The issue seems destined for the Supreme Court, which I can't say is good news. But for the moment, it appears that the majority of judges even in red states agree that this blatantly political attack on healthcare for an oppressed class of people is unconstitutional.