On April 14, local sheriff deputies descended upon Worth County High School in Sylvester, Georgia, on a mission to find drugs they suspected were hidden amongst the student body. They attempted to find those drugs, a new complaint alleges, via physical "pat down" searches of the majority of the school's students.
The Washington Post reports that a federal civil rights lawsuit has been filed against the sheriff's department on behalf of students who say they were violated by deputies who made them line up in the hall, take off their shoes, spread their legs, and put their hands up against the lockers. The lawsuit alleges that several students believed the way deputies handled them to be inappropriate, saying the adults touched several girls' breasts and boys' genitalia. A few girls allege that officers exposed their breasts to their classmates. Some officers wore gloves, they say, some did not.
A complainant identified only as J.E., since he's a minor, told the Post that he was taken from his 10th-grade agriculture class to the hallway, where boys and girls were separated to either side. A deputy put his hands under his shirt and in his back pockets, he says, then ran his hands up and down his legs.
"He came up under my privates and then he grabbed my testicles twice," J.E. said. "I wanted to turn around and tell him to stop touching me. I wanted it to be over and I just wanted to call my dad because I knew something wasn't right."
Another ninth grader said that some students were crying during the search, adding, "Kids weren't allowed to go home; they weren't allowed to tell their parents." Sheriff Jeff Hobby told WALB that searching a student without notifying the parents is perfectly legal if a school administrator is present, but this search was considered highly unusual to the administrators present.
G/O Media may get a commission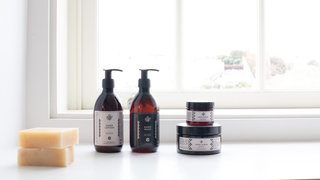 Exfoliate and Hydrate
The Handmade Soap Company
Interim Worth County Superintendent Lawrence Walters said that the sheriff had contacted him to announce they would be performing a search following spring break, saying there were 13 students that the department believed to possibly be carrying drugs. The department had done a search on March 17 that came up dry, and wanted to do something more extensive because Hobby "didn't think that search was thorough." However, what happened was beyond Walters' expectations.
"I've never been involved with anything like that ever in the past 21 years and I don't condone it," said Walters.
The lawsuit accuses the department of "unlawful and intrusive" searches that violated their rights under the Fourth and Fourteenth amendments. Soon after the incident, the sheriff's office released a statement saying that a single deputy had gone rogue during the search and claiming that the deputy had been punished:
"After the pat down was conducted it was discovered that one of the deputies had exceeded the instructions given by the Sheriff and conducted a pat down of some students that was more intrusive than instructed by the Sheriff. Upon discovery of the deputy's actions, the Sheriff has taken corrective action to insure that this behavior will not occur again."
There were no drugs found on students or at the school during the search.