Georgia's Senate has passed a bill that would allow adoption agencies receiving taxpayer funding the right to opt out of working with LGBTQ couples.

Senate Bill 375, sponsored by Republican Senator William Ligon, offers legal protection to faith-based organizations who would rather not place children with people whose lifestyles they find distasteful, including (but probably not limited to) single parents, unmarried couples, and LGBTQ couples.
"Just because you are a faith-based organization, doesn't mean you have to check your faith at the door and cannot participate in government programs," Ligon said.
Opponents reasonably argued that passage of the measure would effectively allow state-sanctioned discrimination, with Senator Nan Orrock pointing out that denying loving parents the right to adopt is "just backward on its face."
Advocates have also decried the bill in forceful terms.
"Senate Bill 375 is a dangerous step backward that would codify permission to discriminate against the LGBTQ community into Georgia state law," Sarah Kate Ellis, president and CEO of LGBTQ advocacy group GLAAD, said in a statement. "This bill is not about freedom of religion, which is one of our nation's fundamental values, but rather about imposing one's personal religious beliefs on others to discriminate against loving foster or adoptive parents simply because of their identity and deny services to LGBTQ youth."
G/O Media may get a commission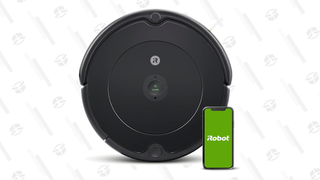 35% Off Black Friday Deal
iRobot Roomba 694 Robot Vacuum
The bill passed 35-19, and will now head to the House, where it will face pushback on the basis that such discriminatory legislation could be bad for the state's...business interests. Amazon, which is eyeing Atlanta as a home for its second North America headquarters, considers a city's "cultural community fit" in its list of criteria, and passage of such a bill probably wouldn't do much to help its cause.