Though plenty of women in Hollywood like Ashley Judd, Rose McGowan, Judi Dench, Kate Winslet, Meryl Streep, Lena Dunham, Glenn Close, Jessica Chastain, Olivia Wilde, Amber Tamblyn, Jennifer Lawrence, America Ferrera, Julianne Moore, and—of course—Meryl Streep have spoken out against Harvey Weinstein's alleged sexual harassment/abuse of power, we shouldn't forget the men. There are, after all, a handful of them who have!
Ana Gasteyer Satirizes the Girl Boss in 'American Auto'
Judd Apatow called Weinstein's behavior "abhorrent."
Mark Ruffalo called it "disgusting."
Christian Slater didn't call out Weinstein by name, but said, "No woman should fear for her safety in the workplace."
And now George Clooney, who spoke with The Daily Beast on Monday. Refusing to mince words, the actor/director/father/Italian landowner said:

"It's indefensible. That's the only word you can start with. Harvey's admitted to it, and it's indefensible...I feel very bad for all of the victims. I mean, cornering a young anchorwoman in the kitchen and jerking off into a potted plant? That's not just some rumor about Harvey hitting on a woman; it's disturbing on a whole lot of levels, because there had to be a lot of people involved in covering that up."
G/O Media may get a commission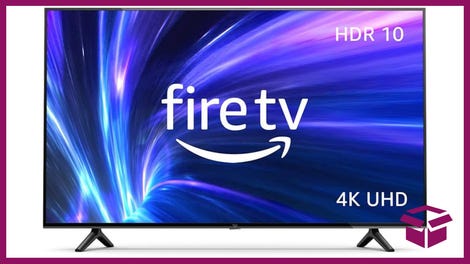 42% Off
Amazon Fire TV 50" 4K Smart TV
But because he's a famous, successful, white, multi-award-winning member of Hollywood's A-list, he had this to say too:
"I've known Harvey for 20 years. He gave me my first big break as an actor in films on From Dusk Till Dawn, he gave me my first big break as a director with Confessions of a Dangerous Mind. We've had dinners, we've been on location together, we've had arguments. But I can tell you that I've never seen any of this behavior—ever."
And, later:
"A lot of people are doing the 'you had to know' thing right now, and yes, if you're asking if I knew that someone who was very powerful had a tendency to hit on young, beautiful women, sure. But I had no idea that it had gone to the level of having to pay off eight women for their silence, and that these women were threatened and victimized. I've been talking with a lot of people about this, and I don't know many people who knew of that...A good bunch of people that I know would say, 'Yeah, Harvey's a dog' or 'Harvey's chasing girls,' but again, this is a very different kind of thing. This is harassment on a very high level."

It's interesting to note how many of these lengthy, impassioned statements end up being more about an actor's complete and total ignorance of Harvey's alleged behavior than, well, Harvey's alleged behavior. (See: here and here.) And while that is in no way an allegation that these people—these members of Hollywood's A-list—knew more than they're letting on (despite the fact that's been characterized as an "open secret" for years, or that Clooney's pal Matt Damon allegedly helped bury a Times expose about Weinstein in 2004), it's just more evidence of that nasty truth that most people have no interest in exploring or speaking out about the victimization of others until their own career is on the line—and how much people at the top can be sheltered from the realities of those below them. This is nothing new.
You can read The Daily Beast's full interview with Clooney here.
[TDB]
---
"We hear she's also featured in a shoot at a wildlife sanctuary owned by her friends, in which the star poses with three orphaned rescue cheetahs sponsored since they were cubs by Jolie and her family foundation."
Page Six, on Angelina Jolie's latest photoshoot
[Page Six]
"According to the perpetually disproven Celeb Dirty Laundry, which is regularly caught peddling fake news about the royal family, the Duchess of Cambridge is worried about Prince William's weight and body shape."
Gossip Cop, on the perpetually disproven Celeb Dirty Laundry
---