Allow me to leverage a controversial opinion: Generation Three was the best generation of Skins. I personally know a lot of fans who stopped watching around Season 5, upon the influx of Nick and Liv and Mini and Grace and Rich and Alo and Franky and MATTY whose Instagram I do not stalk on a regular basis. Here is why those fans are wrong.
Skins, despite being one of the most realistic teen shows ever created, had a formula nonetheless, and there were certain parallels along the storylines of each new gen. Aside from the fact that a main and beloved character died dramatically in every friend base—let's just presume it's pretty uncommon for your therapist to bludgeon your boyfriend—it pretty closely hewed to the notion of a gravitational center becoming unseated, rather like adolescence, that forces a person to evolve. But by Season 5, the writers had perfected this formula and were able to paint their characters and storylines with a wider viewpoint. This is how Mini went from timid virginity to sexual fluidity to teen pregnancy with a "Farmboy," and how Matty was a bad boy loner whose love for Franky was too overbearing for her to take. It was all the pursuit of love and acceptance, a tale so old it's the only tale, but especially acute for the teen years. It was so acute that when Rich started being visited by Grace's ghost in Season 6, it made a sort of sense within our imagined context of his grief—a grief better fleshed out than that of any of the previous seasons. We could even excuse her posthumous voicemails.
The third generation sprung forth a wealth of talent, like Seb de Souza, whose intense Matty was faraway and forlorn.
De Souza, aside from having just a wonderful little Instagram that I'm definitely not creeping on at any given time, clearly had enough talent as a youth that he'd have a lasting career, and so far that's proving correct: he went on to portray Alfonso d'Aragona in The Borgias—whose real life counterpart was described as "the most beautiful youth that I have ever seen in Rome"—and then starred in Freeform's Recovery Road with Jessica Sula, a very good but now-cancelled show about rehab teens. de Souza also cowrote and costarred in the film Kids in Love, which had Cara Delevingne in it!
Grace Blood
Though Recovery Road unfairly got the boot, Jessica Sula is still slowly but surely creeping into American timezones after her sweet turn as ballerina-cum-ghost Grace Blood, daughter of the sadistic headmaster. For instance: you might recognize Sula as one of the imprisoned teens from M. Night Shyamalan's Split, which I'm told is very popular, and she also appears in the upcoming film The Lovers, which stars Debra Winger and will be released by the can't-miss-it company A24. Talent! It takes you there.
G/O Media may get a commission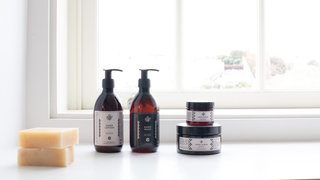 Exfoliate and Hydrate
The Handmade Soap Company
Franky Fitzgerald
Dakota Blue Richards was already kind of famous when she joined Skins, having starred in The Golden Compass as a tween; these days she's on the British detective drama Endeavor, which I have never seen! I'm sure it's great though.
Alo Creevey
As Alo, actor Will Merrick had to pretend to jerk off maybe more than any other character in the history of Skins, so of course he became a pretty successful actor! He's been in a series of productions on stage and screen in England, though Americans are most likely to have seen him in About Time, because they show it on HBO a bunch.
More Generation Three: Rich (Alexander Arnold, who's acted quite steadily across Britain!); Liv (Laya Lewis, who has also acted quite steadily across Britain!); Mini (Freya Mavor, who has acted quite steadily across Britain and FRANCE); and Nick (Sean Teale, who stars on SyFy's dystopian drama Incorporated).