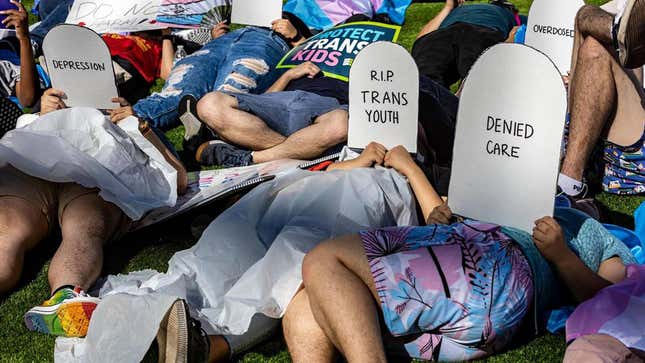 A story that went viral among conservatives on Monday about a gender fluid teen in Missouri whose mother regrets giving them puberty blockers has unsurprisingly fallen apart after the teen herself, who uses she/they pronouns, came forward to say much of it is false—and that the story was published without her input or consent.

The piece, published in former New York Times writer Bari Weiss' new conservative outlet the Free Press, claims that when Casey was 14, the Washington University Transgender Center at St. Louis Children's Hospital pressured their mother into signing off on a puberty blocker called Supprelin to "relieve his psychological distress" (the outlet deliberately misgenders Casey throughout). Based on an interview with Casey's mother, Free Press writer Emily Yoffe—whom, as we've noted, has a penchant for writing pieces about sexual assault that "tend to conclude that the accuser was wrong, lying, or drunk—wrote that "within a semester, Casey went from all As and Bs to a report card dotted with Ds and Fs," "found it impossible to get out of bed," and "missed so much school that it triggered an official meeting about his truancy that included a circuit court judge. He gained more than 30 pounds."
Casey, now 16, strongly refuted the story in a Twitter thread Tuesday, saying it's full of outright "false perceptions" by her mother and that Yoffe did not seem interested in hearing her side of the story.

"I said that I wanted to read it first," Casey wrote. "When I read the draft I was disgusted with what the reporter and my mom had made my experience out to be."
Casey continued: "The article makes it out that my mother had no say in the implant of the Supprelin. This is completely false."
The teen also pushed back on the idea that their grades plummeted as a result of the puberty blockers. Casey said:
The article mentions that my grades dropped from A's and B's to D's and F's in a semester. This is a completely exaggerated statement. My grades were on a steady decline since 2020 due to unrelated mental health concerns. Speaking of mental health, the article claims that my mental health issues can be attributed to the Supprelin implant, however, my personal experience shows that this is not the case. Since Covid-19, my mental health has been declining, and it was already an issue.
Casey's mother's sudden regret for allowing her to take the puberty blockers, she wrote, then made everything worse. She says when her mom revoked consent for the drug, she lost access to counseling with the Washington University transgender care center, which had been crucial to her mental health up until that point. "I was treated amazingly by my counselor," she wrote. "She was a friend to me and offered a great amount of support."
The Free Press's inflammatory reporting on a trans teen, of course, is par for the course these days—not only for a conservative outlet, but also considering the mainstream media's general failings to portray trans people's experiences fairly and accurately. It feels especially egregious to report on what happened to a person's mental health after taking a hormone-blocking drug while deliberately ignoring the perspective of the person in question.