When we first saw Justine Lai's "Join or Die" series, we just knew this art should be hanging at Gawker HQ. Thanks in part to Diesel, we made that happen. They dared us to "Be Stupid" and we happily obliged. Slightly-NSFW photo proof inside.
So, recap: A few months ago Lai made internet headlines with her self-portraity presidential pornography series. Gawker Artists—the program that makes our banner ad space look pretty sometimes—reached out to Justine, and the idea of an NSFW gallery was born. Four other sexually themed artists were expertly recruited by our curators, including Steve Ellis, Emiliano Granado, Heather Morgan and Randy Polumbo, the office was sex-ified, and Diesel offered to sponsor the opening party. Not wanting to leave anyone out, we invited some of our stupidest/most fortunate readers (as picked out by former intern/stupid fictional storyteller James Frey) and away we partied into the cold, late, SoHo evening.
While what happens in Gawker HQ typically stays in Gawker HQ, there was plenty of, er, "performance art" from our friends at The Box, as well as enough wine and beer to keep everyone feeling less awkward about the whole shebang. People looked at paintings of half-naked nuns, watched a man catch a bowling ball on his head with a scorpion in his pants, and played with the most delightful little digital kaleidoscope. It showed ejaculating penises!
G/O Media may get a commission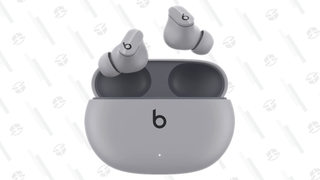 The aftermath? We now regularly conduct business meetings next to a sculpture I affectionately call "Bag O' Anal Beads." Next time you think you work in an "edgy" office, keep in mind that Gawker Media has you beat by a mile. A sex-toy strewn mile. Pictures courtesy of Diana Levine.