Shirley Manson, lead singer of the pride of Madison, Wisc., Garbage, recently had a tête-à-tête with actress/comedian Aisha Tyler on Tyler's podcast Girl on Guy, offering some insight into her first band, what famous people are supposed to smell like, how cruel the press can be, and Jennifer Lopez's effulgence.
Manson's first experience in a band was the result of a theater-group flirtation, when a boy urged her to play piano in his band because that is apparently a can't-miss line to use on budding thespians:
I was in a theatre group and a boy joined the group and he was in a band and he asked me if I wanted to join his band and I was like, 'I can't really play anything' and he said, 'You can play the piano' and I was like, 'Yeah, I can play the piano', and he's like, 'come and play piano in my band and sing back up' and I was like, 'okay'– actually he just wanted to get into my pants, and he did get into my pants.
From there, it was really only a matter of time until Manson became a famous rocker, but, strangely, fame did not make her as redolent and perfect as she'd initially hoped. In fact, her fame attracted negative attention, if you can believe that anyone in the media can be superficial and cruel to celebrities:
I thought that if I became successful somehow I'd stop shitting and smell of roses and all of a sudden I would feel beautiful and everyone else would find me infinitely fascinating and beautiful too… and it didn't happen...I would read in the press that I was ugly and I believed it.
G/O Media may get a commission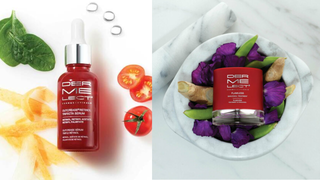 Save $19
Retinol Renewal Kit
Sometime evidently before Manson learned this important lesson about taking potshots at celebrities, she said some not-so-nice things about Jennifer Lopez not deserving her pop-goddess status and wanting to "punch" Lopez in the face, which was easy enough to do until one fateful day when Manson ran into Lopez at a Vanity Fair shoot and of course felt "excruciatingly embarrassed":
I was standing with my back to the main set, and she hadn't arrived on set yet. And then all of a sudden I felt this kind of… all I can say is that the energy changed and I turned around here was J.lo strutting towards me in all her glory and I was thinking 'Oh fuck, here we go. The fly girl is literally going to fight me.' That's what she looked like… like she was going to take me down. And she just thrust out her hand and said 'Shirley' and I said 'Yep' and she went, "Jennifer." And I said 'Hi, Jennifer' and I shook her hand and then, I kid you not, she walked backwards and kept eye contact until I dropped my eyes and looked away. It was so alpha dog and I had to play submissive dog. And I had so much respect for her after that. I was like, 'Okay. You took me down. I gotta give it to you.
Obviously the big takeaways from this interview are 1) do not disparage Jennifer Lopez because Jennifer Lopez is alpha, and 2) Madison is a pretty cool city full of budding musical acts and delicious ice cream.
Shirley Manson (Garbage) on her career, body image and mortality [Brain Filter]