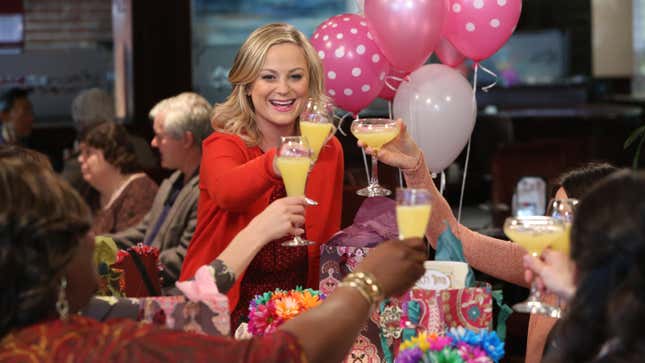 Ah, Valentine's Day: At once a commercial ode to romantic love and a yearly cue to all those who don't have it to overcompensate in costly, corny ways. While the people who fell in the latter category of years past—the good folks who hadn't yet found anyone to buy them a sad-looking bear and cheap chocolate from the drugstore—probably just hung out with their friends or got drunk, high, and hungry at home, a shift occurred on February 11, 2010, and somehow, a cloying holiday gained an equally cloying spinoff. That's right, as Jezebel's resident holiday hater, I fear I have to weigh in on the tired tradition known as Galentine's Day.
Lisa Rinna Finally Reveals the Story of Her Iconic Hairstyle
Coined by beloved Amy Poehler character Leslie Knope during the sophomore season of Parks and Rec, the then-fictional holiday arrives every February 13—the eve of its progenitor. In essence, it's an annual party for platonic love, but in its first iteration, it's presented as brunch...because what better way for women to admit love for each other than slur it over bottomless mimosas?
"Every February 13, my ladyfriends and I leave our husbands and our boyfriends at home, and we just come and kick it, breakfast-style," Knope explains. "Ladies celebrating ladies. It's like Lilith Fair, minus the angst. Plus frittatas."

According to Nielsen Media Research, the episode was seen by 4.98 million households and was critically lauded—and suddenly, just like that, women across the country began observing Galentine's Day. As a fan of the series, I get it; the concept is endearing. It's also profoundly lame. Knope was written to be an annoyingly earnest, pantsuit-wearing, white feminist, which is to say, her conception of a holiday for The Girls™ was intentionally trite. It wasn't intended to start an actual new holiday.
For some reason though, it's spawned over a decade's worth of copycats, capitalist ploys, and content that annually makes me want to die. Peruse any social media platform around this time of year, and it's likely that your TL is plagued by involved soirees complete with cringeworthy merch (ex: #galentinesgang t-shirts, plates, and shot glasses); trips to Vegas, Tulum, and the like; and it's no coincidence that the third and final Magic Mike movie gyrated into theaters on the weekend before "Galentine's Day." Add personalized gifts like a bag befit with a feather robe, glassware, and a purse, and before you know it, you too, could be in debt. Do you really love your girls if you wouldn't go flat broke for them?
Speaking of money, major corporations have since invited themselves along. Amazon, Walmart, and Target now tout dedicated shops—the latter of which has drawn ire from the kind of conservative dorks looking for another busy box.

And in case the discourse couldn't get more stupid...some men have also taken to making jokes like this.

But what's more annoying, I'd argue, is seeing posts from handfuls of women straining themselves to continue a tradition from a television show. "I'm throwing a Valentine's Day party for my family today, a public Galentine's Day party tomorrow, and doing real Valentine's day twice next week," tweeted one woman. Sadder still are the pangs of loneliness Galentine's Day might inspire for others—and no, I'm not referring to a longing for a romantic or sexual partner. As it turns out, a lot more women than you think appear either short on friends or lacking the circumstances to celebrate with them.
All of this considered, how many people actually like Galentine's Day? Honestly? If you relied solely on the internet, it's hard to tell. While there's an undeniable plethora of pals celebrating each other, I'm clearly not alone in my vexation. "If any of you lonely hoes start with that 'galentine's day' shit this year i will 300 kick you into a pit," this legend tweeted. And hilariously, Reductress ran this headline: "True Friendship? This Woman Is Celebrating Galentine's Day by Fucking Her Gals." We simply have to laugh.
If it's up to me? I say we end it right here, right now. We're all adults, meaning we shouldn't need a fake holiday to drink, fuck, and do whatever we want with our friends. Frankly, given the sad state of the world, we should being doing all of the aforementioned as often as possible—preferably sans merch.