Gaga was targeted once again this weekend by the Westboro Baptist hate family (the "God Hates Fags" people), but she responded like the classy lady (and media-savvy individual) she is.
When the Westboro Baptist protesters showed up with signs outside her St. Louis show Saturday night, Gaga took to her Twitter and tapped out what has to be one of the sanest and well-written celebrity response to criticism on Twitter ever (that bar, of course, not being very high.) She instructs her fans to ignore the "hate criminals" at all costs and be grateful that they are "not addicted to hate." Transcription:
"At the risk of drawing attention to a hateful organization, I would like to make my little monster fan aware of a protest being held outside the Monsterball in St.Louis tonight.
Although we have had protesters before, as well as fundamentalists at the show this group of protesters are hate criminals and preach using lude and violent language and imagery that I wish I protect you all from.
Their message is of hatred and divisiveness, but inside at the Monsterball we preach love and unity. My request to all little monsters and public authority is to pay these hate criminals no mind. Do not interact with them, or try to fight. Do not respond to any of their provocation. Don't waste your words, or feelings, no matter what you hear or see.
You are more fortunate and blessed than they are, and in your heart just pray for them. Although I respect and do not judge anyone for their personal views on any politics or religion, this group in particular to me, is violent and dangerous.
I wanted to make my fans aware of my views on how to approach, or rather not approach, these kinds of hate activists. Be inspired to ignore their ignorant message, and feel gratitude in your heart that you are not burdened or addicted to hate, as they are."
After the show, Gaga declared the winner of the standoff:
G/O Media may get a commission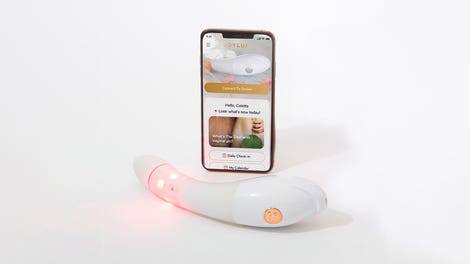 $50 Off
Joylux vFit Gold Device
This isn't the first time Westboro Baptist has targeted Lady Gaga. Earlier this year, in lieu of picketing her prior St. Louis concert (Westboro is based in Topeka, Kansas), the group put out a parody video of Gaga's "Poker Face" that imaginatively swaps "whorish face" for "poker face."
Lady GaGa Versus Westboro Baptist Church [Vulture]
Lady GaGa [Twitter]