"How wonderful life is, now that Gaga's in the world," warbled Elton John. Hyperbolic? Maybe: but red carpets are sure a lot weirder! The amfAR New York Gala is always star-studded and fab, but it's never been this...odd.
John Demsey, President of MAC Cosmetics, is in the middle of an awesome sandwich. Thing is, he just wanted a reuben.



James Gandolfini's like, "oh, shit!" Deborah Lin is clearly doing the, "It's ok, honey, we've been over this. And I dressed us both with quiet elegance."



G/O Media may get a commission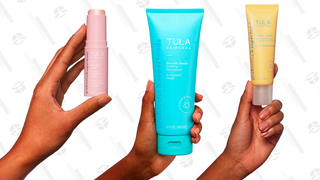 Alexandra Kerry's clearly in the midst of a, "oh, hey...fancy seeing you here!" Moment. "Honey, this is...um...you remember, Andy's friend...I'm sorry, I just have to run iron my skirt."



You know when someone writes about sleeping with Tucker Max like it's some big accomplishment, and you're like, your trophy room blows. Well, that's how I feel about wearing Jamiroquai's hats to events, like Carol Alt. (That said, she's the only onr acknowledging the blizzard conditions.)



I guess, for Margherita Missoni, knits are pretty much contractually obligatory.



Vanessa Redgrave and Joely Richardson: strength in numbers. (And satin.)



I imagine being Sinem Saniye in this getup, and taking off my coat, and looking around, and having the expression of shocked dismay Debbie Reynolds gets when she pops out of the cake in Singin in the Rain and sees Don Lockwood. But that may not be how it went down at all!



As a stylist: Mary Alice Stephenson should really know where to find a full-length slip, even if it still confounds the rest of us and we're forced to wear that "chemise" thing from American Apparel in a pinch.



I love it when people do prints for evening. Or, at least, when Zoe Saldana does this one.



If I were making matches, the way people often seem to do on Valentine's Day episodes of high school dramas such as Degrassi, I would surely pair up Lady Gaga and artist Terence Koh. And hilarity would ensue.



Julianna Margulies is unquestionably elegant (even if it starts to look like chest-eyes when you look too long.)



Julia Stiles: simple, lovely, really all anyone wants to do mid-blizzard.



Heidi Klum, following some recent sartorial bizarreness, plays it safe.



Paulina Porizkova: tattered and defiant.



The Chloe version of the LBD: and the photographer face. Both a badass improvement, IMO.



Maggie Rizer's face says, well, yes, in this weather I do wear tights.



And Brooke Shields? Quilting!



And I was all about Sigourney Weaver's practical, weather-ready getup...until I saw the feathers at the hem.



Rufus Wainwright: tortured. Possibly by his multiplicity of cravats.



I think it's in the tradition of random royalty in America to sport a demure suit, a la Duchess of York, Sarah Ferguson.



Karolina Kurkova: yeah, my legs are bare. What? I can handle it, even if you can't.



Cynthia Nixon looks gorgeous, in that easy-breezy DK, Eileen Fisher, I-have-my-priorities-down way that only some people can rock.



Doutzen Kroes: oh, wait, this wasn't Marily-themed...?



Iman's dress verges on the Vegas. Or would, if it were anyone else.



Eliza Dushku brings a welcome hit of softness.



Do not mess with Zoe Kravitz: she has an unimpeachable pedigree, studded shoes and a really big skirt.
[Images via Getty]