Gabrielle Union has aways seemed pretty damn sharp. (She also has not aged since 2003.) In an interview with Yahoo Style, the actress discusses issues like Ferguson and being a black woman in Hollywood with more insight and sensibility, not just than most celebrities, but than most people, period.
On the events in Ferguson and Eric Garner in New York, Yahoo points out that she generally tries to stay positive in her public comments and Union acknowledges that she makes an effort to be responsible about what she says publicly:
There's a bit of a gap between what I really want to say and what I know is responsible to say. The general lack of compassion for your fellow man is really frustrating. I think what the protesters are saying, or at least some of them, is it's not just about police brutality. It's about a widespread systematic crippling of some people in this country by birthright, and no one's acknowledging it. There may be a power shakeup if you're really going to do something about it. A lot of people aren't interested in that. They say, "It's not that bad. We have Barack Obama. We're good." Or, "You're not getting lynched." They're not acknowledging the institutional racism that impacts daily lives.
While Union is married to an NBA star, not an NFL player, she is a big football fan. Commenting on the ongoing issues with the NFL and domestic violence, she calls out the NFL on it's bullshit moral code while noting that while the NFL certainly has a domestic violence problem, the league is largely representative of our national apathy and inaction towards the issue.
The biggest thing is that the NFL is a business. It's professional sports, and there are 55 guys on a team. If there's one guy out of 55 who's done something horrible, you can't taint the other 54 with the same brush. But in the sense that a guy committing domestic violence received a less harsh penalty than players did for smoking weed, in that regard [NFL commissioner] Roger Goodell has failed miserably in bringing the NFL to a more enlightened time. If he'd talked to his customers, they'd much rather have Cheech and Chong on the field than the villain in a Tyler Perry movie. The NFL is a microcosm of all industries. Domestic violence affects Wall Street, teachers, and policemen. We have a lot of work to do as a league, but we also have a lot of work to do as a society.
G/O Media may get a commission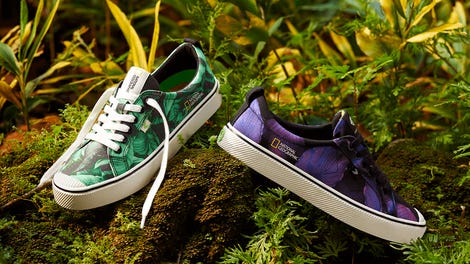 New New New
Cariuma + National Geographic
Union stars in BET's Being Mary Jane, which is often unnecessarily compared to another popular show starring a black woman—Scandal.
What bugs me is that they're making the comparison because they're both shows that star black women. It's such apples and oranges. It's like comparing True Detective and Law & Order — you would never do that. What it says is we need so much more diversity in TV. We need shows starring women of color or women of a certain age or women who aren't a size 2. If that happens, the world isn't going to end.
Her True Detective versus Law & Order comparison is so spot on, it makes me want to kiss her. The less clever among us love to make fruitless comparisons between television shows for the direct purposes making one seem more erudite or worth of critical discussion than the other.
The whole interview, which you can find here, is worth a read and the second season of Being Mary Jane premieres on February 3rd.
Image via Getty.