As previously discussed, some people watching the Olympics — mostly fellow African-Americans — have been critical of Gabby Douglas's hair. For many black people, hair is not just hair: it is "good" or "bad," a political statement, a reflection of socio-economical status and a vehicle for messages about social and beauty standards. For Douglas, an athlete competing on the world stage, as long as her hair is not in her way, it should be fine. But some couldn't resist making snide comments on Twitter and Facebook, in a sad display of girl-on-girl crime.
Fashionista caught up with Gabby's mom, Natalie Hawkins, in the Olympic Village, and asked her how Gabby felt about it:
She said,"Really?! I won two gold medals and made history and my hair is trending?" So we laughed about it. We made a huge joke out of it and I was quick to try to diffuse that situation. Because I thought, "How ignorant is it of people to comment on her hair and she still has more competitions to go. Are you TRYING to ruin her self confidence? She has to go out there and feel good about herself, and if she feels good about herself on that floor, who are YOU to criticize her? What have YOU done to help contribute to her dream, that you felt it necessary to put it out there so that she could see it."
But it's clear that Hawkins, with whom Gabby does not live much of the time, is incredibly (and rightfully) frustrated that her daughter's hair has sparked discussion:
She gets relaxer but we try not to relax it too much. It's really been African American women that have come out and attacked her. They don't know about gymnastics. She has to keep her hair in a ponytail 28-30 hours a week. In gymnastics you're tumbling around on your hair. You're falling backwards on it. You're doing "timers" and your hair is constantly snagging on the mat, and for our hair that's very detrimental. You're going into foam pits–and any hair stylist will tell you that foam on African American hair is destructive. It breaks the hair horribly. We had to come up with creative ways to keep [Gabby's] hair looking good. We've tried the short hair style, we've tried long. We grew her hair out because she preferred long hair. I'm not going to make her cut her hair just to please someone else.
G/O Media may get a commission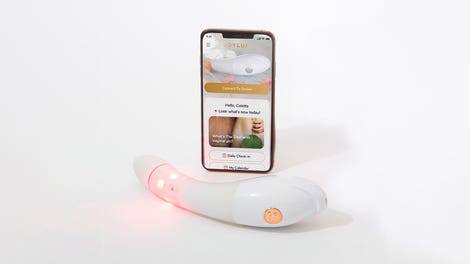 $50 Off
Joylux vFit Gold Device
Nor should she.
Gabby Douglas' Mom Takes on Her Daughter's Hair Haters: 'If She Feels Good About Herself, Who Are You To Criticize Her?' [Fashionista]
Gabby Douglas' mother Natalie Hawkins on hair 'controversy': 'Are you trying to ruin her self confidence?' [The Grio]
Earlier: Haters Need to Shut the Hell Up About Gabby Douglas' Hair
Gabby Douglas Doesn't Give a Shit What You Think About Her Hair