Instead of a fun weekend of music and luxury, the inaugural year of the Fyre Festival turned into hours of torment for hundreds of music fans. Co-created by Ja Rule, the festival was originally billed as an experiential event, complete with fine dining and perks, but guests soon realized the odds were not in their favor.
On April 28—the start of what was supposed to be the first of two consecutive weekends—organizers postponed the festival, attempted to send attendees on return flights, and reportedly promised refunds. Still, guests were left stranded on the island or at airports in the Bahamas and Miami. One attendee Jezebel spoke to who chose to remain anonymous described the scene at the Exuma International Airport in George Town as disorganized yet "surprisingly calm."
But another ticket holder who travelled with a group of friends (all in their 20s) didn't even make it to the island. She described the weeks leading up to the festival as a series of failures. Here's her account of what happened, as told to Clover Hope. 
We had all been to festivals before, either camping or staying in hotels, and to us it's about the experience. We've done Coachella, EDC, Ultra, everything. Nothing has ever compared to this. My friend saw the price for Fyre and thought it was cheaper than Coachella. You had Emily Ratajkowski and Kendall Jenner promoting it, and G.O.O.D. Music—all these names associated with it. You're thinking, okay, these people have money to put on a production. And then Kendall Jenner came out with the VIP discount, for, like, an eight-person villa. That's what was advertised first to us.
G/O Media may get a commission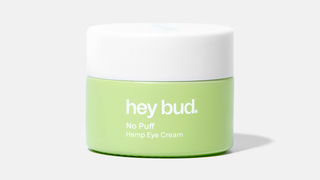 15% off
Hey Bud - No Puff Hemp Eye Cream
We bought the tickets, thinking, we'll get eight girls together and even if it's not a great festival, at least we'll be on the beach for the long weekend. It was like $1,200 per girl, $9,000 total. We didn't even know the lineup. All we knew was G.O.O.D. Music, which was the first one to be named, and we're thinking, this is great. For $9,000, we have eight girls getting a private house or villa or cabana or whatever you want to call it in the Bahamas.
When we got the receipt for the tickets, that's at the point where it said: "GA Lodge." [Ed Note: As in, General Admission.] Later, we found out "lodge" was the equivalent of tent. We realized this might not actually be a house. They also sent an email saying something like, if you're interested in purchasing cabanas, in purchasing table service, bottle service, please email us. I respond to the email inquiring about these different services they have to offer. For the next 14 days, my email repeatedly keeps bouncing back saying they're not accepting emails, it's not valid. We call the number and this number doesn't exist. At one point, I was really nervous and thought the only way I could feasibly get in contact was to show up at their address.
But we weren't super concerned. We thought, okay, it's the first year, we understand things might seem not as together. It doesn't matter if we're in a tent. We were all down. We were like, we're gonna go.
We were at the Miami airport on Thursday, starting at 3 p.m. There were probably about 100 people there, all for the Fyre Festival, going to George Town, Bahamas. It was Swift Air, which I've never flown before. I don't think the airline really knew what was going on.

We get there and we're already getting texts from friends who had come from Miami and gone to Fyre earlier than us. They were stranded on a beach and people [associated with Fyre] were giving them free alcohol because the accommodations weren't ready. Then our friends were like, they won't remove us from this beach, they're not letting us get toward the area where our accommodations are because apparently not enough things were prepared.
Someone walks by us and says, "Whatever you do, don't check Reddit." I download the app for Reddit and type in "Fyre Festival" and it's random posts being like: This is a shitshow, it's so disorganized, they haven't given us our tent.

We get our Fyre Festival wristbands, and we go to the waiting area. Our flight has been delayed. We're like, okay, this is a little fucked. The [airline attendants] boarding the plane told someone, "Oh, you have two? Do you want to get on this flight?" They were treating it like they had empty seats on a bus and not empty seats on a plane. It was a total free-for-all. Everyone's psyched for what we were promised and we're trying to ignore all these red flags. Like, why would anyone try to actually scam us?
The airline didn't scan our boarding passes or anything. They just collected our boarding passes and did a count, which was the first time I've flown anywhere recently where they didn't scan. We were on the plane and decided to get off because we kept getting texts and phone calls from our friends on the island and they're like, don't come, don't come. We had other friends who were like, okay we see tents, but it's super disorganized. We were getting texts and in the pictures, [the Fyre organizers] were still fencing up around the water [on the beach]. Every single picture that they advertised felt like one of those schemes. We've been to the Bahamas before, we know what it looks like, and this was totally different.
This flight ends up not taking off. It was eventually canceled. This is a rumor, but we heard the pilot was freaking out because all of a sudden [there were people] trying to get off the flight for, to them, no apparent reason. When we left [the plane], we had to return our boarding passes to them and they made us sign a waiver saying that it wasn't the airline's fault that we decided to de-board.
A week ago, we had gotten individual emails that requested us to put money into our Fyre wristbands. Those were the wristbands that we would use to pay for things at the festival because it was cash only. This was also crazy—they were recommending between $300 and $500 per day for expenses. Food was technically included. We didn't know what the food was. I put $500 on my card.

We kept getting all of our information from Reddit and Instagram and texts from friends who were already there and on flights, all saying it's canceled. Fyre waited so long to email us about being canceled and then when they sent the cancelation email—there were like, grammatical errors, typos. I honestly have no idea what sort of production it was. Everyone's calling it a scam or a fraud, but I just think they were in over their head. They thought, All we have to do is promote it with supermodels, get a couple headliners and promise some luxury Instagrammable experience. But this stuff takes experience and a really professional organization.
We're genuinely curious how many people could have been involved in this. It feels like this is a staff of 12, because this has been so poorly dealt with.
When we woke up on Friday morning, our friends who were trying to leave the island the previous night were still in the airport. This is a group of dudes who hadn't been fed and there was apparently no drinking water. When they first got there, [the organizers] were just giving free alcohol to placate everyone. Things weren't coming together and all of a sudden, they're like, we have nowhere to take you, we have no more free drinks to offer you. That's when our friends finally called us, like oh no, we've been here 12 hours and still nothing is ready.
We personally wouldn't identify with the people that were posting about their dads paying $25,000. We've seen the memes and the posts. But our attitude towards that is, like, they feel like they've been duped but with any festival there's always that VIP experience and this was no different. There was a woman in the airport on the phone with someone from Fyre Festival upset about her accommodations and flight changes, bragging, "I have 65,000 Instagram followers. I'll bury you guys."
I think people that are really into festivals, it was important to be part of the first time. This felt like something that was gonna be really cool. At the end of the day, we paid $1,200 for what was apparently a luxury experience. Obviously, now we're looking back on it and we're like oh, too good to be true. The idea of eating the money really sucks. There were real concerns—like, this was my rent, which I just spent on this thing that's not happening. We feel a little better because we got that email about refunds, but we don't know what's gonna happen. They shouldn't have promised so much luxury upfront. This was something where they dreamed a little too big and obviously didn't have enough experience.