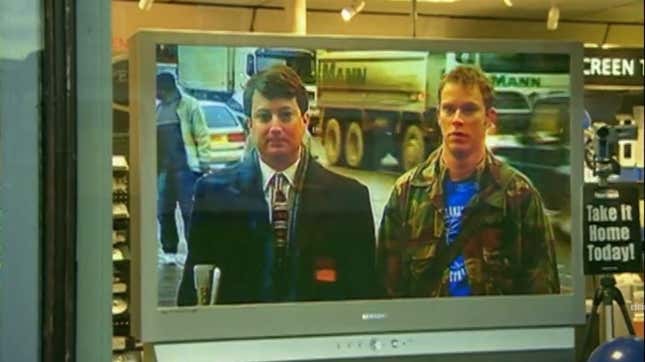 The British sitcom Peep Show, which ran on the UK's Channel 4 from from 2003 to 2015, is one of the funniest television shows ever created. It was a wacky, irreverent, hysterical (and thanks to its POV filming, innovative) bit of programming, and it launched Olivia Colman's career, among other things. If you haven't seen it yet, the whole show's streaming on Hulu, and you can watch clips on Peep Show's official YouTube page. Peep Show was a nearly perfect show, and so it with some trepidation that I bring you the news that FX plans to launch an America remake, this time with two women in the lead.
Ana Gasteyer Satirizes the Girl Boss in 'American Auto'
Deadline reports that producer/writer Karey Dornetto will write a U.S. adaptation of Peep Show for FX, swapping out main characters Mark and Jez (played by David Mitchell and Robert Webb) for two women. This isn't the first time a network's tried to remake Peep Show on this side of the pond—there've been three failed U.S. Peep Shows, in fact, in 2005, 2008, and 2016. But this is the first time someone decided to put women front-and-center.
I am not entirely sure how I feel about this idea. On the one hand, I am under the impression there can never be enough shows written by and starring women. Dornetto's credits include Portlandia, Community, and Arrested Development, so it sounds like this new Peep Show is in good hands. Sam Bain, one of the OG Peep Show's creators, seems to agree, admitting in an essay for The Guardian that he himself had a "fear‑based resistance to making a woman the centre of a story," and hopes having Dornetto at the helm will open up a whole new space for women in Peep Show's universe:
People sometimes ask if I look at my earlier work differently now – whether my shows would have been better if they had been more diverse. What would Peep Show have been like with women as the two leads? It's a great question – and it's one I'll shortly have the answer to, because there is a script in development for a US Peep Show with two female leads. It's at FX Networks and it will be written by top comedy brain Karey Dornetto (Portlandia, Community).
Ultimately, the best way of building gender inclusivity into scripts is to get women to write them. I can't wait to find out what sick and twisted bullshit goes on inside the minds of a pair of female losers.
And yet, gender-swapped versions of beloved originals seem to just set these new shows up for failure. It's hard enough to do a good job rebooting a beloved movie or television show. It is extra hard to do a good job rebooting a British show for American audiences. And when you're throwing a gender-swap into the mix, if said reboot doesn't quite live up to the ingeniousness of version 1.0, it's easy for fans to blame ~the women~ for falling short of sky-high expectations.
We saw it with the all-women reboot of Ghostbusters, a film that was entertaining, but not nearly as groundbreaking as the original, and we saw it with Oceans 8, which was cute, but, again, not as groundbreaking or fun as Oceans 11. This isn't really the fault of the films themselves, but reboots are rarely as fresh as the material they're rebooting, for obvious reasons. For that reason, I'm awaiting the arrival of this new Peep Show with some skepticism. Hopefully, Dornetto proves me wrong, and also writes in one million Olivia Colman cameos.