Have you been wondering where exactly the maybe-relationship between Blac Chyna and Future stands? Probably not, but the answer to our non-question has been answered with Future's new video for "Rich Sex."
Blac Chyna plays the lead in the video, which is perhaps Future's way of making up for one of the biggest dick-move tweets in the history of shameless men with what seems like a rather serious substance abuse problem.
The tweet came after Blac Chyna posted a picture of a tattoo on her hand of the rapper's name. Sources said that she didn't care about his very public declaration of the casualness of their relationship and who knows, maybe she doesn't! Maybe she realizes that a relationship can only be so stable with a man who has four children from four different women. Either way, at least her tattoo is looking slightly less terrible now.
The video is some pretty self-explanatory stuff here, folks. Blac Chyna and Future are rich—as evidenced by the mansion they're hanging out in. They also have sex.
G/O Media may get a commission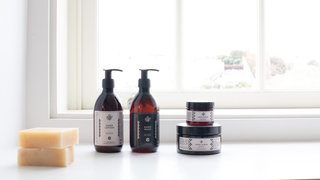 Exfoliate and Hydrate
The Handmade Soap Company
Blac Chyna gets to wear some fancy lingerie and absorb the flattering lighting as she glides around an airy waterfront mansion.
To say that thee's some PDA in this video is a gross understatement.
I know this looks like a lot, but there is some tongue action in this production that literally made me scream out loud and almost slam my laptop shut.
I think they like each other now!
Hey, what's so funny guys?
Ok we get it.
NO, SERIOUSLY WE GET IT.
Omg guys.
Considering that Future is Future and Blac Chyna had a child with Tyga, one can't possibly predict the stability of this relationship, but it sure looks like they at least had a nice day filming this music video.
---
Contact the author at kara.brown@jezebel.com .