Saturday, just as Full Figured Fashion Week was in full swing, a story about the highly lucrative plus-size market hit the front page of The New York Times. That night, I went to the FFFW finale runway show.
The show was completely different from a runway presentation you might see during Meredes-Benz fashion week, and not just due to the size of the models or folks in the audience. People were smiling. Sometimes, at mainstream fashion shows, the air is full of stress, haughtiness and self-importance; the self-aggrandizement is overwhelming. At the FFFW finale, it was impossible not to be struck by the friendly, welcoming atmosphere. The show was held in the ballroom of the Park Central Hotel, and although it was warm, and a fuse blew, and things started late, the audience and the organizers were s in good spirits, and people seemed genuinely excited to be there.
(this dress — and the at top — by Igigi)
We saw thirteen collections — a huge undertaking for FFFW creator Gwen DeVoe and her team. Some of the names were familiar: Igigi by Yuliya Raquel; Project Runway's Qristyl Frazier; Monif C.. Other lines were new to me: Pheline by Ava Jones; Bella Rene by Kenyatta Jones; LaMaica by Marvalyn Nelson; KRene Designs by Kathy Youg; Lotis Clothing by Katie Burke and Renée Lethbridge; Tru Diva by Veronica Lipscomb; Osun Designs by Delali Haligah; Jewel Shannon Design, and a tribute to the late Charles Coleman of Bella Donna designs.
G/O Media may get a commission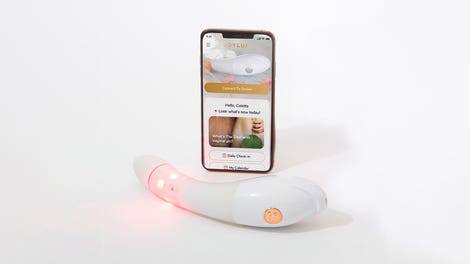 $50 Off
Joylux vFit Gold Device
(design by Susan Moses)

While the shows offered everything from red-hot swimsuits to gently flowing gowns and simple basics, the crowed seemed the most enthusiastic when there was drama, extravagance and sheer fierceness on the runway. Glittery tops perfect for a night on the town and huge, elaborate stand-up collars elicited applause. The models — all of them plus-sized — were a variety of shapes, sizes and ethnicities — one of the most diverse runways I've ever seen.
The only downside, if any, were some of the food-oriented or skinny-bashing comments participants made. The show kicked off with a poet talking about "waif not, want not" and cornbread or some such — when we all know that different people have different metabolisms and there are plenty of overweight people who eat healthy foods — just as there are plenty of slender people who eat fatty junk foods. (The poet did have some great lines, however, like "There was beauty in your body way before you started doing Pilates" and "A woman should never let her love handles dictate how she handles love.") In addition, there were references to plus-size women being "real," when perhaps "realistic" would be a more fitting term.

(L to R): Whitney Thompson (winner of ANTM — tenth cycle); Full Figured Fashion Week creator Gwen DeVoe; plus model icon and host of the Full Figured Fashion Week finale, Emme Aronson; and Tali Giat from the reality show More to Love.
But truly: While there were amazing clothes, it was the emotion that made the show special. In backstage interviews projected to screens, the designers gushed about creating clothes for women with confidence and sense of self-acceptance; women who like standing out in a crowd and setting trends instead of following them; and the "sisterhood" of the plus-size industry. Unlike Mercedes-Benz Fashion Week, there were a only a few "famous" faces in attendance — America's Next Top Model alum Whitney Thompson; Tali from More To Love; Kristian from More To Love — but the joy in the room was definitely a nice chance of pace from the often snotty, jaded hipper-than-thou attitude fashion shows usually entail.
And some more looks, for your fashionable pleasure. This one's from Krene Designs.

Here, Igigi by Yuliya Raquel.

And this shiny hotness comes from Lamaica Designs.

Full Figured Fashion Week [Official Site]
Related: Plus-Size Revelation: Bigger Women Have Cash, Too [NY Times]
Earlier: The Plus-Sized Clothing Crisis Continues
[Runway images by Richard Lew, Richard Lew Photography.]
[Pictured at left: Stunning model Rosie Mercado, the face of FFFW.]