The musical choices in this first season of Empire have ranged from comically unreal clunkers to semi-conceivable hits. Some records, like "Drip Drop," are a masterful mix of both. This flashy, overambitious score is, in fact, the show's greatest strength and weakness.
Timbaland's inaugural run as music director? Adequate at best, a solid C+. With the Empire season finale approaching on March 18—the soundtrack hit iTunes this week—it's time to treasure the good times we had.
Below, I rate all the original songs heard in the series, on a scale of 1-10, with 1 being the equivalent of Terrence Howard's perm and 10 being a vintage Cookie sable. These judgments are based purely on quality, chart potential and, most important, what's in my heart.
---
Songs That Appear on the Soundtrack
1. "Good Enough" (feat. Jussie Smollett)
After Cookie starts officially managing Jamal, he performs this record in a lounge between flashbacks of his younger self wearing his mom's headscarf and red pumps. Jamal's smooth enough to handle it, emoting all his pent-up feelings of inadequacy and disappointment with Lucious: "I'll never be big enough to pay your dues/ But I just keep trying." Still, I can't help thinking Usher or Miguel would do him one better.
G/O Media may get a commission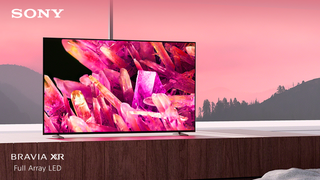 $400 off
Sony 55 Inch 4K Ultra HD TV X90K Series
Rating: 6
---
2. "What Is Love" (feat. V. Bozeman)
V. Bozeman flexes on this power ballad in the pilot's opening scene, delivering a knockout high note at the end. The song is so dull conceptually, though. It sounds like something an American Idol contestant would use to audition.
Rating: 5
---
3. "No Apologies" (feat. Jussie Smollett, Yazz)
My dislike for this song is almost cancelled out by my love of Hakeem's inflated "rapper" motions. This beat sounds like elementary GarageBand noise and the lyrics are laughable: "I'm a revolutionary, pardon my vocabulary"; "Can't nobody stop me no, not even for Obama y'all."
Rating: 4
---
4. "Keep It Movin'" (feat. Serayah McNeill and Yazz)
If I told someone this was a late-2000s Cassie jingle they'd probably believe me, which means it's okay but I'll pass. Also, it'd be better without Hakeem infringing on it with his ad libs.
Rating: 5
---
5. "Keep Your Money" (feat. Jussie Smollett)
Jamal records this during a session at Ghetto Ass Studios. It plays again when Lucious visits Cookie after leaving a rose at her door, and later in the club when Cookie tells Jamal he needs to dump Michael for a partner who's his equal. Brownie points for Jamal incorporating lines from the Good Times theme. I can hear Usher on this.
Rating: 6.5
---
6. "Drip Drop" (feat. Yazz and Serayah McNeill)
Who knew Empire could produce such gold. Hakeem plays this legendary single for Lucious and Anika at Empire headquarters while bragging about rebranding himself. In terms of stickiness, annoyance, title and general what-the-fuck-ness, "Drip Drop" has all it takes to be a No. 1 hit. as I predicted.
While clearly not a standout substance wise ("She make that thang go drip drop" is a real lyric), it's still undeniably the most memorable and mind-numbing song of the series. This is both great and bad, proof that a hit record isn't rocket science. I love it ironically and for real.
Best line: "You hella pretty/ Are you from the city?/ Let me put you in a viddy."
Rating: 20
---
7. "Can't Truss 'Em" (feat. Yazz)
Hakeem first performs this diss song, aimed at Tiana, in the studio in front of a beaming Lucious. It's the definition of a basic record. As Jamal keenly notes to Hakeem, "When you write a song about how much you hate women, it makes you look like a little bitch." Never trust women because: "Fellas, if you clever, trust a lady never/ Have you thinking back and wishing that you never met her."
Rating: 3
---
8. "I Wanna Love You" (feat. Jussie Smollet)
Jamal does a live performance of this with a band prior to his interview with Sway. This is, hands down, my (second) favorite song from the series. It's not only organically feel-good and soulful, it also sounds like a record Jussie would genuinely sing as an artist. It's much more in his artistic lane than some of the other try-hard commercialized records on the show. I can easily see it playing in the background of a C-list black rom-com.
Rating: 10
---
9. "Money For Nothing" (feat. Jussie Smollett and Yazz)
Jamal and Hakeem perform this Dire Straits remake at the Empire Records showcase for investors, with the accompaniment of dancing TV heads... Yah, so. Moving right along, let's just all agree that Jamal might be imbued with the spirit of Usher.
Rating: 5
---
10. "Walk Out On Me" (feat. Courtney Love)
Courtney Love sings this solemn comeback record as Elle Dallas. So slurred and somber it reminds me of post-Back to Black Amy Winehouse.
Rating: 8
---
11. "You're So Beautiful" (feat. Jussie Smollett and Yazz)
This was originally a Lucious hit record (LOL) back when he was an artist, but Jamal switches up the lyrics and sings it at the Empire white party as his official coming out. His rearrangement adds the necessary cool factor, but it's still mostly flavorless.
Rating: 6.5
---
12. "Conqueror" (feat. Estelle and Jussie Smollett)
Jamal adorably duets with Estelle (who plays recording artist Delphine) on her real-life single for a cute downtempo R&B groove.
Rating: 6.5
---
13. "Remember the Music" (feat. Jennifer Hudson)
This is a song that corresponds with Andre's bipolar breakdown storyline. Jennifer Hudson plays a music therapist helping him control his emotions. It's just a piano and J. Hud's roars. While I'm not a huge fan, I'm grading on a curve here. It at least sounds like a 2015 record.
Rating: 7
---
14. "Shake Down" (feat. Mary J. Blige and Terrence Howard)
Love is a crime. It's a love crime. It's about love crimes. I can't believe Mary J. Blige (who plays Lucious' ex in flashback scenes) agreed to hop on a song with Terrence Howard, whose voice sounds like a two-dollar K-Ci here. Please listen if you haven't heard it yet. His voice is truly a gem of atrociousness.
Rating: 3
---
15. "Power of the Empire" (feat. Yazz)
It's nearly the perfect rap parody—whispered intensity and all. Put Justin Timberlake on the hook and it's marginally better.
Rating: 4.5
---
16. "Nothing To Lose" (feat. Jussie Smollett)
Not one of Jussie's best efforts. As a motivational anthem, it only motivates me to press stop. As much as I dig Jussie's overall falsetto and tone, he's a frequent offender of tremble-voice over-singing.
Rating: 4.5
---
17. "Whatever Makes You Happy" (feat. Jennifer Hudson and Juicy J)
This track kicks off with Jennifer Hudson screaming at me and continues as such. It feels torturous. Whatever.
Rating: 3
---
18. "NY Raining" (feat. Charles Hamilton and Rita Ora)
I wasn't expecting to like this at all, but it's simple and does the job. Charles Hamilton, who's been MIA from the rap scene, picks back up and glides over that breezy beat and Rita Ora sounds equally effortless on the hook.
Rating: 8
---
Songs Not on the Soundtrack
19. "Live In the Moment" (feat. Jussie Smollett and Yazz)
Jamal and Hakeem perform this duet in the pilot. If I had to pinpoint the moment I knew this show would change our lives forever, it would be this. Hakeem pantomiming rapper moves. Jamal tickling the ivories. Rhonda and Andre looking down from the balcony. How can you not.
Rhonda: "Look at 'em. Your brothers are showing off again."

Andre: "It's what they do, babe."
Real, because it's true.
Rating: 6
---
20. "Armani" (feat. Yazz)
Whenever a contemporary hit like "0-100" or "We Dem Boyz" plays on Empire, the staleness of the original rap songs is so glaring. This is a passable bite of Migo's "Versace," so it's inherently good and means Hakeem's flow at least sounds current.
Rating: 6
---
21. "Right There" (feat. Yazz)
What's that over there? Jamal helps Hakeem work on this song after Hakeem's hangover studio session where he succinctly refers to one of Lucious' records as "wack." They perform it again in the studio in front of Lucious, who refuses to give Jamal credit for working his magic on the arrangement. Kid Ink could steal this and turn it into an escapist club jam.
Rating: 7
---
22. "What the DJ Spins" (feat. Terrence Howard)
This 2002 Lucious hit plays in the background of episode two as he watches the news about Empire's IPO on TV (they call him an "R&B hip-hop king"). Makes sense. Sounds very vintage Ja Rule, which is a good thing. Throwback Lucious >>>>
Rating: 8.5
---
23. "Adios" (feat. Serayah McNeill)
I half expected Lumidee to start singing. Tiana rehearses this in episode two while Hakeem tries to bag her the first time they meet. It sounds like an even more vanilla version of Rihanna's Carib-pop.
Rating: 4
---
24. "Tell the Truth" (feat. Jussie Smollett)
Jamal records this while watching Lucious get all dramatic on TV about rap being "a narration for oppressed people." Like "I Wanna Love You" it's more effectively understated.
Rating: 7
---
25. "Bad Girl" (feat. Serayah McNeill)
I could see myself mindlessly winding to this (it's about searching for a hot boy) without realizing how mediocre it is. Tiana sings, "I'm looking for a dude that can get me in the mood with a real big bank account."
Rating: 6
---
26. "Up All Night"
Lucious thinks John Legend would kill this song and he's right. John Legend would add that grave Antebellum libretto. Jamal is cool on it, though. It's like a sex lullaby.
Rating: 6
---
27. "All the Above" (feat. Jussie Smollett)
Is this D'Angelo? Jamal? Jussie? The falsetto is hitting the spot and, as he said, "this ain't just some crazy sexy love song." Can't say I didn't laugh at the "How Does It Feel" treatment, but this is slightly head and shoulders above the show's other material so...
Rating: 8
---
V kills it once again, singing this deep ballad about physical abuse during the battle between Empire and Creedmoor. The complete version is pretty powerful. Maybe I wouldn't skip it if it popped up on my Spotify shuffle.
Rating: 6.5
---
28. "Nothing But a Number"
Hakeem is growing up artistically, which gives me hope that in season two he'll follow up "Drip Drop" with another smash. This melodic little number, while gross ("the older the berry, the sweeter the juice," he sings), is right in the vein of what Empire should be doing: capturing the movements of this era, i.e. Drake.
Rating: 9.5
---
29. "Lola" (feat. Jussie Smollett)
Jamal already made a song for his fake daughter with no DNA test. Ballsy. Beautiful. Kind of. The full version is something cool to groove to.
Rating: 8
Image via Fox
---
Contact the author at clover@jezebel.com.