Let me preface this by saying that, for the most part, I know what I'm doing. But also, in an even bigger sense, I have no idea.
I know makeup isn't rocket science, per se, and I've had great fun expanding and playing with my beauty and skincare routine over the last year, thanks in no small part to the fact I now make a living wage and I've decided, well, why the hell not try out some products? But it wasn't always this way—I'm a commitment-phobe. I used to believe that I only needed one of everything and generally felt overwhelmed by the number of blogs and articles and Instagrams dedicated to making me buy another thing for my face. Now I know better: I'm branching out, having fun with it, and feel confident knowing I am holding my own hand through this process. I am guided through drugstore aisles and Sephora and Ricky's and Dermstore by my own sense of what I like and what I need. I have never seen a YouTube makeup tutorial and I never want to. Definitely Marie Kondo-ing this shit.
7:15 a.m.
I am trying desperately to work on becoming a morning person, because this news cycle is insane and I like to have some time in the mornings to just CHILL before work. This part of my routine may be the most boring, because the only thing I do to my face when I wake up is wash it. With water. Really, that's it! Water, baby—it's nature... hmm, well, it's water.
The reason for this is I have oily skin, so I really don't like to put anything on my face in the morning. Plus, I already cleanse and moisturize every night, and my skin also seems to be sensitive to more cleansing in the morning. Whatever! This works for me, despite horrifying more than one Sephora employee in my lifetime, so until I see a big reason to change, I'm sticking with it.
G/O Media may get a commission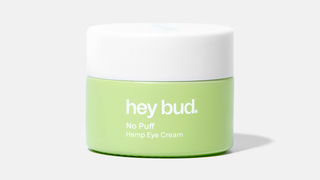 15% off
Hey Bud - No Puff Hemp Eye Cream
At this point, I'll read or make coffee or listen to a podcast and generally putz around. If I'm showering, I use David Mallett Shampoo No. 1 L'Hydratation, which I bought from a co-worker at a discount, and R+Co Gemstone Color Conditioner, which my best friend bought for me for my birthday. I towel-dry my hair and then let it air-dry. I used to love blow-drying my hair, and did it every time I showered for many years, but then I realized I loved saving time even more. It's not laziness—I really, truly believe that my hair, which is very thick, relatively healthy, and in the last year or so has become kind of wavy, ends up looking exactly the same either way. In the winter months, it is harder to exclusively air-dry but still doable with a little planning.
Oh right—last year, I dyed my hair blonde and it looked GREAT, but I got really impatient growing it out and asked my incredible hair stylist (shout out Marlene!) to do whatever it took to bring it back to normal. She did some hair magic shit and dyed it back to my natural color six months ago and that color is STILL hanging on! But my hair is still technically dyed and prone to damage, so I like to do a little deep conditioning or hair repair mask every week or two to really give it some love. I used the Arrojo Whipped Treatment from my salon last night, and today, my hair is lewking good.
10:30 a.m.—??
At this point, I have blogged and I'm ready to leave my apartment, which means I need to do a few things in a specific order. First: This is when I moisturize. I recently decided I should start taking better care of my skin and get a moisturizer with SPF in it. For the majority of my life, I thought being brown would save me from ever needing to apply sunscreen unless I was, I dunno, at the beach, but that is a dream I must hang up on the shelf now. Currently, I am using CeraVe Facial Moisturizing Lotion with SPF 30 and it's nice: It goes on smooth, it's not too heavy, and it doesn't have a strong scent. It's also getting warmer out, so for my arms and legs, I use Neutrogena Ultra Sheer Dry-Touch Sunscreen with SPF 30. I like to wear my glasses at home, which make me look kind of like an owl, but I have worn contacts since I was 12 and find it hard to give up wearing them out, so around this time, I'll pop 'em in.
Now, the fun stuff. Makeup! If I had to give up every piece of makeup for the rest of my life except for one, I would choose concealer. I love it. It's like my face, just a teensy bit better. I used the NARS Soft Matte Complete Concealer for a long time but the seasons are changing and my skin is getting darker and I can't find it in my exact shade anymore. I've been trying out the YSL All Hours Concealer, and I looove it; it's sooo silky and smooth and lightweight but durable. Would recommend!
Next, I'll use the Glossier Boy Brow in brown on my brows. I hate Glossier, but then I hate-go into their store and I hate-try on their products and I hate-look really cute, so I use some of them. I've been really into highlighter lately, because it makes me feel glamorous yet understated, like I have a cool secret. I use the Killawatt Freestyle Highlighter from Fenty Beauty. I splash that shit on the tops of my cheeks until it looks like my face would glisten in a Boomerang on Instagram, and then I'm satisfied. For blush, I wanted to try the Benetint Cheek & Lip Stain from Benefit Cosmetics, which sounded practical and cool as hell as it can also go on your lips, too. Have used it a couple of times so far, and in fact, it's good.
I used to wear a lot of liquid black eyeliner and then one day, I said: What for? I stopped, and now I only wear eyeliner occasionally, and if I do, I prefer a pencil liner. Today I'm using the NARS Larger Than Life Long-Wear Eyeliner in black and for mascara, Dior Maximizer 3D Lash Primer and Diorshow Mascara which I got as samples and really enjoy.
Wow! I'm done. At some point, I also brushed my hair, which helps the bushiness about 5 percent, and got dressed. All in a day's work.
6 p.m.—?? It's nighttime now
So now I'm at work, but it's quitting time and I wanna go OUT! Actually, I'm going to a show tonight that I'll potentially write about, and I've decided I wanna DO SOME COOL EYESHADOW.
Wearing eyeshadow is a recent development for me, and one I wholeheartedly endorse. One day, I just walked into a Sephora and said, "You know when you go on Instagram and the HAIM sisters have been photographed once AGAIN wearing that bold, dusty pink eyeshadow? I want that." I actually didn't have to say any of this because the guy knew exactly what I was talking about. He did my eyes in the store and taught me how to do a peachy pink lid and then I spent a lot of money on the palette he used and recommended (the Marc Jacobs Limited Edition Eye-Conic Longwear Eyeshadow Palette), and then I immediately forgot all of the instructions he gave me. Lucky for me, I don't give a shit, so I just pick a color or two AND GO NUTS.
This technique works best when I've got a primer on—the CeraVe moisturizer or the YSL concealer do a good job of this in the mornings, or if I'm going out at night and doing my makeup, I'll use a little dab of Embroylisse's Lait-Crème Concentré, which is French but you can get at Ricky's or Amazon for slightly cheaper. But I'm in a rush, so first I dab on a little bit of the Glossier Lidstar in CUB (thank you Glossier, that's not a color) and blend with my finger, and then accent that with a little bright pink from my palette.
You might say this is overkill—how much eye shadow does one need?? But I spent [redacted amount of dollars] on it, so I plan to use it for at least 25 years.
I quickly redo my brows (I hate you Glossier!!!) and touch up my cheeks and lips with the cherry tint, and now I'm ready to go. Here I am, looking CUUUTE! (Julianne told me to take close-ups.)
11:30 p.m.—oh god, it's late
I am home from the concert, and BOY, am I tired! Good thing my literal favorite thing to do when I get home, no matter what I'm state I'm in, is to get my face ready for bed.
Today was a heavy eye-makeup day, so I dab some micellar water on a cotton round and wipe that shit right off. Then I grab my handy dandy Neutrogena Facial Cleansing Bar for Acne-Prone Skin, which—let me stop right here and tell you guys about. I LOVE this face bar, you guys. I buy it in bulk. This is my desert island skincare product. I admit, when people start talking about serums and acids and toner, I do start to tune out, because I feel like with the Neutrogena Facial Cleansing Bar for Acne-Prone Skin by my side, I can do anything.
As maybe you've guessed, I have acne-prone skin, and when I break out (which is almost continuously these days), I aggressively target that shit with spot treatment like Clean & Clear Persa-Gel 10. When I have a particularly nasty zit situation going on, I use Dalacin T, which is a topical antibiotic treatment. At this point, I switch to glasses and brush my teeth, and then finally, moisturize with just a smiiidge of the Neutrogena Hydro Boost Water Gel.
Is it perfect? No. (Well, okay, it kind of is.) But will it be different in six months? Totally. But that's the beauty of it—I've realized it's better to approach my skincare and makeup routine as "Whatever makes me look happy and cute today!" and not "How can I buy the correct amount of products that will maximize my skin's brightness/tightness/hydration/but also dryness/etc." These are crazy times we live in, but life is also long; nothing around me is staying the same, so why should I? Maybe one day I'll figure it out, but probably not. It's a reminder that I'm doing this shit for me. And for now, I'm happy with my daily-use highlighter, and when it runs out, I'll buy more.