Viewers of a French gameshow are calling for one of the guests to be prosecuted for sexual assault after he kissed a woman's breast on live TV. Jean-Michel Maire asked a 21-year-old model who goes by Soraya for a kiss; when she firmly and repeatedly said no, he planted one on her chest instead. He has apologized, sort of.

Maire, a journalist who once covered crime and war in Bosnia before descending to these embarrassing depths, is the latest in a series of very public sexual harassment and assault scandals in France. A TV host named Jean-Marc Morandini was recently indicted for corruption of a minor, accused of pressuring an underage person to perform a sex act on video during a (suspect-sounding) casting call at his home. Morandini is also accused of sexually harassing at least five of his coworkers. The scandals extend to politics as well: Denis Baupin, a senior member of parliament, resigned in May after eight female colleagues accused him of sexual harassment. The BBC reports another member of parliament, Jean-Michel Baylet, is accused of hitting a female colleague in the face.
But Maire's assault on Soraya generated particular outrage, happening as it did on live television. The two were participating in a "re-enactment" of Kim Kardashians's robbery on the gameshow 35 Hours of Baba when, the publication Metro reports, the programs host Cyril Hanouna started telling Soraya to let Maire kiss her:
Hanouna started urging Soraya to let Maire give her a kiss in return for 'rescuing' her.

Soraya explicitly and firmly says 'no' – Maire tries to say, 'She said yes!' but Soraya repeats again, 'I said no'.
Hanouna starts asking her why she won't let Maire kiss her, and she says that it's because people are watching. Maire then suggests 'Well we can do it backstage…' prompting laughter from Hanouna and the audience.

Maire then leans in for a kiss, and Soraya turns her face away.

Instead of leaving her alone as she had expressly asked, Maire then bends down and kisses her right breast instead.
In a video clip of the incident, Soraya looks briefly shocked before adjusting her face into a professional smile. She is now, naturally, being accused of using the incident to get "attention," although she hasn't filed a complaint against Maire and has in fact defended him, saying on Facebook he's a good person despite his "masculine impulses."
The BBC reports that more than 250 viewers, including women's rights minister Laurence Rossignol, filed complaints with the French version of the FCC. The incident is reviving debate about the pervasiveness and perceived acceptability of sexual harassment in French culture. Meanwhile Maire, if I understand this correctly, tweeted a semi-joking apology about his grabby little monkey hands:
G/O Media may get a commission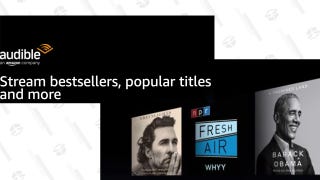 FREE
Audible Premium Plus 3-Month Free Trial