The new Frederick's catalog arrived in mailboxes, and the company is pushing — naturally! — hearts for Valentine's Day. Heart thongs, heart lace, hearts on nipples! Images after the jump.
Nothing says "let's get it on" like a Tickle-Me Elmo-esque babydoll.
While the Heartbreaker undies appear to begin a full eight inches below the navel, the ruffled boy shorts are actually pretty cute. Note: Do not wear under jeans unless you want people to think you have flesh-eating worms living in your pelvis.
G/O Media may get a commission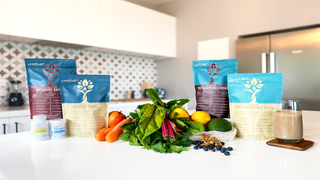 The halter bra at left is paired with a "skong," which is not a reclusive Australian bird but a skirt with a thong attached. Also, none of this is super-sleazy! Frederick's isn't all crotchless panties and cupless bras, you know.
Here's some more pretty stuff with hearts on it. The corset is especially lovely.
…And here's the not-so-pretty stuff. A see-through apron? Really? As for the "heartbreaker open cup bralette," those of use whose cups runneth over can only imagine the kind of folly that would be trying one on. Oh, and look: Another "skong."
Guess what? This red "notorious heart lace teddy" comes with a snap crotch. Good times. As for the satin heart back g-string, kudos to Fred for offering it in plus sizes. The crotchless panty below? Let's not talk about it.
Back seam thigh highs with little hearts? Actually quite sweet.
More heart-shaped nipple covers. Love is never having to say "I'm sorry, but I like playing hide-the-areolas."
LOL! This never ceases to amuse. Do men still really fantasize about a woman who will blow them and then vacuum? And do women really indulge them by dressing like housekeepers?
Oooh, the ubiquitous bandage dress hath spawned lingerie. Is Kim Kardashian to blame?
Ow.


Frederick's Of Hollywood [Official Site]
Earlier: Frederick's Of Hollywood: Not As Slutty As You Might Think! (But Still Pretty Slutty)