Single Man, Married Man is a new, yawnily retrograde dating guide written By Men For Women. With the tagline "Every Man Wants to Get Married: Why Not With You?," the book purports to spill important relationship secrets revolving around the fact that "it takes a lot to hold [men's] attention, and men tend to lose interest in romantic partners when they stop being, well... interesting." True! So do women. My dog also loses interest in her own butthole from time to time.
Although "one must be interesting to be, well... interesting" is not a new idea, nor is the implication that women must gracefully contort every fiber of their being to meet the needs of an impassive and unyielding Male Head of House, we learn from Feministing that the good trolls at Fox & Friends decided to feature three of Single Man, Married Man's recommendations as "brutally honest" New Year's resolutions for "ladies."
First up: "No matter where a woman is in life, she should always be able to cater to her man's needs." Yes, sure! On deadline, while pooping, or nine centimeters dilated: Cater 2 U on the Sonos 24/7/365. After this commandment comes down from the mountain, Ainsley Earhardt, the Fox cohost in the middle, notes, "I do want to be a better wife."
Second up: "When he gets his ego stroked, he will be more inclined to love you more." Ainsley Earhardt: "That's true!" My boyfriend: "If you're dating a twelve-year-old." I agree with both of them.
Third up: "Prepare his meals, draw him a bath and massage his feet every now and again." Says the host on the right: "My wife is at home taking notes!" Don't make her take notes, though; she has meals to prepare and baths to draw already. You can just print out this screenshot to educate her:
G/O Media may get a commission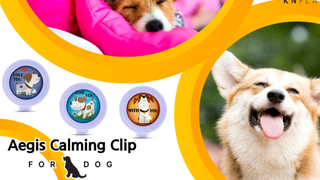 20% off
Aegis Calming Clip for Dogs
The Fox & Friends Facebook post about it has 8,500 likes and counting.
It's groundbreaking stuff. Really makes you think. Ladies, leave your best bath tips in the comments. Do you use markers to draw it, or menstrual blood on cardboard, or what?