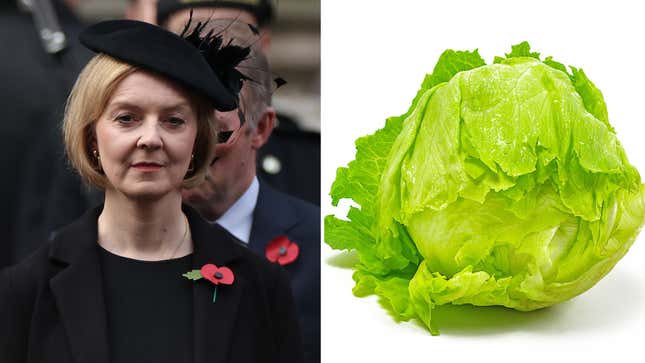 I'm my opinion, the only thing worse than failing to outlive a head of lettuce as UK prime minister is failing to have a sense of humor about that face. Unfortunately, Liz Truss has failed both tests.
RTÉ journalist David McCullagh asked Truss at a broadcasting conference in Dublin about the Daily Star's decision to livestream the decline of a head of lettuce in a blond wig last year and pit it against Truss' tenure, which ultimately lasted 44 days. Truss lost. Now she says of that competition, "I don't think it's particularly funny, I think it's puerile."
Truss, a conservative, had taken office in early September 2022, two days before the queen died and two months after former Prime Minister Boris Johnson resigned. To catch you up to now: Rishi Sunak is prime minister, Johnson is writing columns about Ozempic for the Daily Mail, and Truss has apparently been seething about tabloids comparing her to produce.
Trust also excoriated British media for treating politics as a "soap opera."
"I do think sometimes politics is sort of treated as a branch of the entertainment industry, who's up, who's down, who says what about who," she said.
Of course, Truss can't in good faith blame her downfall on the media or the head of lettuce. As Jezebel's resident UK expert Nora Biette-Timmons explained at the time:
Her resignation came weeks after she and her first chancellor of the exchequer (aka finance minister), Kwasi Kwarteng, announced a "mini budget" that was so disastrous that it sent the already-struggling pound plunging. Last week, in a typically spineless move, she fired Kwarteng. In polling conducted immediately after he was fired, her approval rating reached the lowest any prime minister has ever had in the history of polling: 80 percent disapproval.
Now, we are not throwing any shade on the UK's leadership that we wouldn't throw at our own. That said, we were and will always remain Team Lettuce.