In a shocking interview published by Variety, a woman named Addie Zinone (she was Addie Collins at the time) detailed her time working at NBC's Today from 1999-2000, when she was 24 years old. Zinone began as an intern, but was quickly offered a gig as a production assistant—her "dream job."
But the experience quickly soured once Matt Lauer, who was "in his 40s and newly married" at the time, asked her to lunch to chat about her career. Much to Zinone's surprise, he had no intention of keeping things professional and began "aggressively hitting on her." The two then began a brief sexual relationship, one Zinone says completely changed the course of her life.
The relationship began with Lauer sending Zinone flirty messages on their internal communication system (she provided several transcriptions of their conversations to Variety), but even after Zinone mentioned his wife, he persisted. They would have what she describes as consensual sex several times over the next month. "Matt took advantage of his power. It's sickening," she says, adding:
Even though my situation with Matt was consensual, I ultimately felt like a victim because of the power dynamic. He knew that I was leaving, and that there was no better prey than somebody who is going to be gone. He went after the most vulnerable and the least powerful — and those were the production assistants and the interns. He understood that we were going to be so flattered and so enthralled by the idea that the most powerful man at NBC News is taking any interest in us. He felt like he was untouchable. He lacked so much morality and reality, because he had people enabling him. I see the common threads and how he preyed on women, and I was one of them.
At one point, Lauer asked Zinone to his office to discuss her career. Thanks to all the other reports we've heard about his behavior, you can guess what happened next. Says Zinone:
I thought he was finally going to talk to me and encourage me professionally. I wanted to hear from him that I could succeed in West Virginia. I sat across from him, and he pushes a button from his desk and the door shuts. It was embarrassing, because his secretary was sitting outside. He wanted to do stuff. I was like, "No. I'm so in over my head. I'm not a performance artist."
G/O Media may get a commission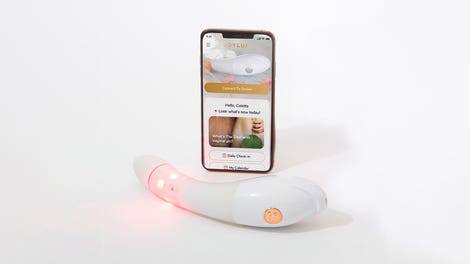 $50 Off
Joylux vFit Gold Device
Lauer's predatory behavior took a toll on Zinone's emotional wellbeing, even after she moved to Weston, West Virginia to become an anchor for a local news station. She says:
When I left Today, I was so distraught. One night a few weeks later, I'm anchoring the local news in West Virginia. I finish, get in my driveway and there was a reporter from the National Enquirer waiting for me. Holy crap. What's happening? I reach out to Matt in an email. He wrote back, "Who did you tell?" After that, he completely ghosted me. He left me to handle all this on my own, which I did. I told the National Enquirer that Matt and I were just friends.
Zinone says her experience with Lauer held her hostage. "I was under his spell," she says. "It was all-consuming. I couldn't focus. I couldn't concentrate." Embarrassed and ashamed, she eventually quit her career in broadcast journalism and joined the army.
You can read her full story at Variety.

[Variety]
---