The former director of sales for Prabal Gurung has alleged that the designer made critical comments about her body and pregnancy in front of employees.
Melissa Teitel tells Vox in a new story that Gurung belittled and discriminated her for her pregnancy and appearance despite the fact that the designer presents himself as a champion of women.
Teitel says that on one particular occasion, Gurung made fun of her in front of her colleagues after taking a handful of trail mix:
"You know that's not a single serving, right?" Teitel says Prabal Gurung, the designer and chief executive of the company, asked her, in front of approximately 10 other employees. Teitel, already uncomfortable with the way her body looked during pregnancy, was embarrassed. One of the other attendees at the meeting also recalled the incident.

When Teitel explained she'd brought the snack for everyone, she says Gurung replied, "You're not supposed to eat more than the size of your palm."
Then, she says, he laughed at her.
Teitel says she also participated in a meeting with Gurung and his investors in May 2015 and made sure to dress in Prabal Gurung for the meeting. The day after, Teitel says Gurung told her that the firm passed on investing in the company because its representatives were "unhappy with her appearance."

And Gurung also allegedly made direct comments about Teitel's pregnancy. He told her "dresses weren't the best option" for her because nobody wanted to see her legs and Gurung objected to Teitel wearing flats during her pregnancy even though she had preeclampsia, which causes severe swelling in her feet and ankles. He reportedly said on one occassion:
"We know you're pregnant, but this look isn't really working for me," she recalls him telling her, gesturing at her pregnant body.

"No one wants my body back more than me," Teitel says she told Gurung.

"I certainly hope so," he said.
Teitel says that when she gave birth via C-section in September the company told her come back to work in late October. She agreed but asked to work part-time at home and return fully to the office beginning in December because she was concerned about recovering from surgery and being able to breastfeed.
G/O Media may get a commission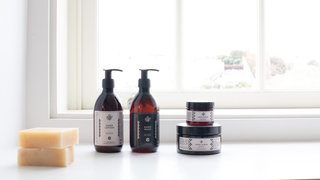 Exfoliate and Hydrate
The Handmade Soap Company
But the company allegedly disagreed with her request and when Teitel didn't return to work full-time in late October they let her know she had effectively resigned. They also reportedly asked her to repay the company for her clothing allowance and health insurance. A spokesperson for the brand told Vox that Teitel's account "does not in any way reflect the spirit or culture of our work space."
Gurung calls himself a feminist, has created a plus-size fashion line with Lane Bryant, and sent "the future is female" t-shirts down the runway last year. The Washington Post asked if he was the "most woke man" working in fashion. But the new allegations of discrimination stand in stark contrast to Gurung's public persona as crusader for women.