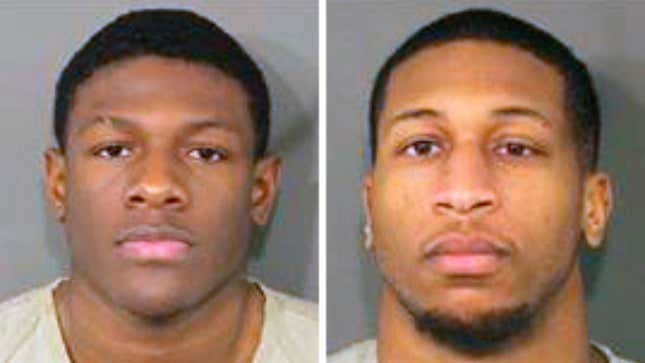 On Thursday, two former Ohio State football players were acquitted of rape and kidnapping charges after a two-day trial in which one of the men testified under oath that he'd been explicitly instructed by someone on university staff to film consent in order to avoid potential legal charges or unwanted ramifications.
There's Nothing More American Than Baseball & Begging Elected Officials to Care About Climate Change
In early 2020, an unnamed 19-year-old student at the university accused defensive players, Amir I. Riep and Jahsen L. Wint, of raping her at their off-campus apartment. While Riep and Wint's defense attorneys argued the woman had consensual sex with both men but simply regretted it in the aftermath, court records and the woman's testimony tell a starkly different story.
According to her testimony, on the night of February 4, 2020, she was having consensual sex with Riep, whom she'd exchanged messages with sometime before. She says at some point she wanted to stop, but Riep and Wint then forced her to continue with both of them. A criminal complaint for the incident alleges that Riep grabbed the woman by her neck and forced her to her hands and knees before raping her. While Riep held the woman in place, Wint allegedly forced oral sex on her. Per court records, the men stopped several minutes later and informed the woman that she was to confirm what happened was consensual via video recording. She testified that she agreed to do so just to leave sooner. Hours later, she approached the authorities about the alleged sexual assault.
That following week, Riep and Wint turned themselves over to Columbus police, and both players were dismissed from the football team. They were later charged with two counts of rape and one count of kidnapping, and the woman pursued a civil protection order.
The video, captured via Riep's cellphone, was played in court. While the footage is reportedly "visually dark," the woman can be heard saying that she's crying and then agreeing to the question of whether the encounter was consensual.
The next day, Riep and another witness, Lloyd McFarquhar, who was a fellow former football player at Ohio State, took the stand. Both men testified that players were instructed to procure evidence that anyone they have sex with consented to protect themselves from possible ramifications—legal, or otherwise. Upon turning themselves in, Riep reportedly showed the video to police in an effort to exonerate himself and Wint.
Additionally, Dan Sabol, Riep's defense attorney, played four short videos in court which he claimed depicted instances between 2018 and 2019 when Riep recorded young women—once again, after—sexual encounters. In four separate videos, they agree when Riep asks if what happened was consensual. They are either clothed or not shown on camera.
"I'm on the football team and this is something that we just are taught to do to protect ourselves," Riep testified he told one of the women before recording. "It's nothing against you."
Notably, Riep nor McFarquhar specified who at the university instructed them to film consent, but when contacted by The Columbus Dispatch, a football team spokesman, Jerry Emig, sent a statement via email:
"In general, when the Department of Athletics speaks with student-athletes about consent, we work closely with subject matter experts on campus and follow the university's well established Non-Discrimination, Harassment, and Sexual Misconduct Policy.

"You'll see that page one of the policy defines consent as, 'permission that is clear, knowing, voluntary, and expressed prior to engaging in and during an act. Consent is active, not passive. Silence, in and of itself, cannot be interpreted as consent. Consent can be given by words or actions, as long as those words or actions create mutually understandable clear permission regarding willingness to engage in (and the conditions of) sexual activity.'"
Notably, Emig failed to address that consent was confirmed only after what allegedly happened between Riep, Wint, and the woman—and in the cases of all other sexual encounters shown in court.
"One of these things is not like the others," the woman's attorney, Daniel Meyer told the court of the recorded consent videos during closing statements. "Listen to what those other women say, their voices, their demeanor, what they say and how they say it."
"Why was there a difference in their demeanor?" he continued. "Only one of them was traumatized by this. Only one was the victim of…a brutal gang rape."
Following the not guilty verdict, Meyer declined to comment, but Riep and Wint's attorney, Dan Sabol, told The Dispatch that "the system worked."
"The jury did a fantastic job discerning the truth and contrasting what Amir said and what his accuser said," Sabol said.
If convicted, Riep and Wint could've spent up to 33 years in prison respectively, and both would have had to register as sex offenders.