Shelley Ross is a former producer for shows like Good Morning America and the Early Show on CBS. Over thirty years ago, she was given a job as a segment producer on The Tomorrow Show by Roger Ailes. And in a new essay for The Daily Beast, Ross describes meeting with Ailes to discuss the position, and how it quickly segued into sexual harassment.
Ross believes the conversation she had with Ailes was what Fox News event planner Laurie Luhn has said she experienced more intensely years later:
I can't remember the restaurant, but I can recall every bit of the conversation as if it was on videotape.

"When did you first discover you were sexy?" Roger began. My head suddenly dropped like a marionette and I could no longer make eye contact.

I could only manage to stare at my feet as I answered, "I am finding this conversation very embarrassing."
Ross attempted to turn the conversation back to the job she had already made plans to move across the country for, but "he continued to explain how much he believed in loyalty and how much he believed the best expression of that loyalty comes in the form of a 'sexual alliance.'"
This description does sound like the beginning of Luhn's story, who says she entered into a coercive relationship with Ailes in 1990, during which she had sex with him, and arranged sexual encounters with him and other women while working for the Fox News network. Ross alleges she left her meeting with Ailes shaken, but tried to salvage the situation in a phone call later that night:
"But I'd never date a boss, and besides, we hardly know each other. We don't know if we'd even like each other outside of the work environment," I said.

"Oh, if it's time you need, just say so."

"Come on, Roger, how would that work, you'd come into my office once a week, once a month and say 'Are you ready yet?'"

He laughed at my scenario, then at some point suggested I hold off with business affairs.
G/O Media may get a commission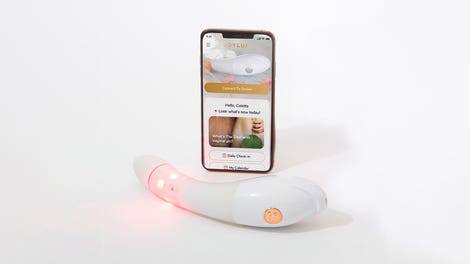 $50 Off
Joylux vFit Gold Device
Ross became panicked by the suggestion that the job she was depending on might be disappearing on her. She phoned her lawyer, and the senior partner at the firm contacted a trifecta of powerful male attorneys to conference call with Ailes, including Mickey Rudin and Ed "The Hook" Hookstratten:
Hookstratten began, "Roger, we're calling because you have a little 'boy-girl' problem that's come to our attention." He proceeded to lay out the details. "Hey, I'm single," Roger protested. I suspect the three attorneys then proceeded to explain why his marital status didn't matter.
Ross says that after that phone call, Ailes did a 180 and dedicated himself to making sure Ross took the job and all insinuations of a sexual relationship were dropped. She says he apologized so profusely she believed in his sincerity.
Ross goes on to outline numerous examples of sexual harassment she's experienced since at other hands, from getting her ass grabbed to being thrown in a muddy pond by a male photographer. She seems to think that sexism is a pervasive threat in media and the world, but also has trouble reconciling her version of Roger Ailes, who eventually became something of a friend, with how he is being reported in the media.
Ross suggests some form of tribunal for victims of sexual harassment and perpetrators, strangely likening it to the South African Truth and Reconciliation Commissions, which were set up after apartheid was abolished in that country. Though she herself experienced harassment from Ailes first hand, Ross appears to see the allegations as the responsibility of his victims to some degree, writing, "You only have to look at most of the women on air at Fox to believe they are, at least, partners in their own objectification. Although Roger was forced to resign in the wake of an internal investigation of harassment, he has denied any misconduct or wrongdoing."
You can read her whole story here.