Former Miss Kansas Theresa Vail—famous for displaying her tattoos at the Miss America pageant—now hosts a show on the Outdoor Channel called Limitless With Theresa Vail. And she's found herself in a spot of legal trouble, with Alaskan authorities claiming she illegally shot a grizzly bear.
The Kansas City Star explains:
Vail, 25, the star of "Limitless With Theresa Vail," is charged with killing a grizzly bear in May without possessing a state bear tag for the animal. Investigators say she held a single bear tag and shot a male grizzly bear, attempted to kill it with a second shot, and instead fired and killed a second bear, a sow grizzly.
This seems like a simple fuck-up rather than some sort of intentional bear-murder spree. Could happen to anybody! (Anybody who happened to be hunting a grizzly, that is.)
The AP notes the charge is a misdemeanor. However, she's also been charged with the misdemeanor "unsworn falsification." The complaint alleges that, in cahoots with her guides on the hunt, "Vail signed and backdated a big-game tag record to make it appear she had purchased the tag before shooting the bear." Girl—it's always the cover-up that gets you.
G/O Media may get a commission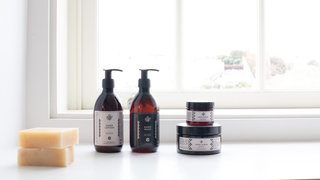 Exfoliate and Hydrate
The Handmade Soap Company
Vail has since appeared on Inside Edition and admitted that, "I unintentionally harvested a second bear while attempting a follow-up shot," and said, "I am deeply sorry for my mistakes." Everybody involved says they're cooperating with the cops.
The Outdoor Channel's website advertises Limitless as presenting:
the compelling story of a young, grass roots, red-blooded, all-American woman who is on a mission to overcome stereotypes, break barriers, and use her life story as a platform to help transform people's opinions of all the things a woman should, could and can be.
To be fair, Vail isn't the only beauty queen I can picture as rather handy with a rifle.

---
Contact the author at kelly@jezebel.com.
Photo via the Outdoor Channel.