In March of this year, Rosette Laursen says she was working as an assistant at a talent agency in the Los Angeles area when she planned to take a day off to participate in the A Day Without a Woman strike. The man she says was her boss allegedly responded to her request with an offensive emailed rant, which he apparently intended to send to someone else.
On Tuesday, Laursen broke down the incident in a Facebook post [UPDATE: The post can be read here] that's gaining attention, using "Jorkle" as a stand-in for the boss's real name, until the end of the post when she reveals his identity: Michael Einfeld, of Michael Einfeld Management. According to his website, Einfeld is a talent manager for Oscar-, Emmy-, and Tony-winning clients. He says he's worked with such big-time actors as Hillary Swank, Brendan Fraser and Phyllis Diller, among others.
Laursen claims she emailed Einfeld to let him know that on March 8, the day of the strike, she "would love to spend the day writing, as my career goal is to be a TV Writer, and unfortunately writers' rooms are very dominantly male, even in 2017."
According to Laursen, Einfeld mistakenly sent a response that was intended for two male coworkers to a group email address. In her Facebook post, Laursen provided a screenshot of what she claims to be Einfeld's emails and reproduced them with slight spelling changes:
"Are you fucking kidding me. At the end of pilot season. Someone should sew her vagina shut. I'm never hiring a girl ever again."
"No bonus for anyone that strikes or leaves early in pilot season. No one is striking in show business we are all against Trump. And women are considered diverse and being shoved in as writer and directors. Zach who is a Jewish male is being pushed out.

Uppity Selfish Cunt. Heather went to work. I'm sure anyone at a casting office or agency would be fired."
G/O Media may get a commission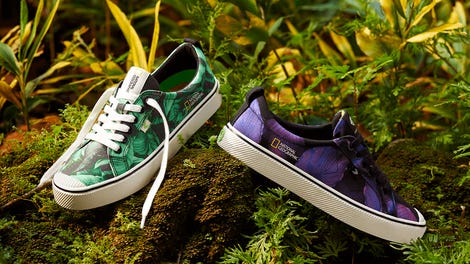 New New New
Cariuma + National Geographic
According to Laursen, Einfeld followed the emails up with a text apology:

"I apologize for venting like a masagonistic [sic] faggot. I was letting off steam I didn't mean to hit reply all. I'm an asshole. If you come back we can play nazi death camp. You can beat me and put me in the oven. Or feed me cabbage and lock me in the shower. I truly am sorry."
Laursen writes on Facebook:

I wasn't a big fan of any of this, and responded "I quit." One of my male coworkers, obviously realizing he would be experiencing "a day without a woman" for the indefinite future and would have to do more work, encouraged me to come back into the office saying, "It was just a joke." My coworkers had worked there for years and my only guess is that they slowly became desensitized to Jorkle's behavior to the point where the line of what is normal or acceptable didn't just blur, it disappeared. Which is sad, because I otherwise liked them. But, I understand the psychological effects a person of power can have on their crew.
She goes on to explain that Einfeld "could be kind of terrible" but that "sometimes he was actually really cool and funny and nice." Laursen says she stayed at the job longer than she would've liked but that she was also interviewing for other positions. At the urge of friends, she decided to pursue litigation.
But Laursen claims that Einfeld repeatedly failed to respond to her lawyer's communications, so she went public with his emails instead of pursuing further legal action. Laursen says no one at the company has reached out to her since the post. "I only had two coworkers total, both male. One of my male coworkers asked if I was really quitting and said he supported my decision either way," Laursen told me via email. "The other coworker made the joke comment. I haven't had any contact with them since March."
As for why she decided to publicly expose Einfeld, she says, "I don't think Michael should be allowed to continue his inappropriate behavior with zero repercussions. If he has gotten away with it for this long, then there are probably countless similar situations in the entertainment industry that go unmentioned. This is something that needs to change."

Einfeld has not responded to multiple requests for comment from Jezebel. We'll update this post if that changes.

UPDATE 8/28/17: Laursen's original Facebook post about Micheal Einfeld was flagged and removed from her Facebook page on August 24. Laursen republished the post on her personal site.