The former Chief Marketing Officer at Ivanka Trump's clothing company says there was no maternity leave policy in place when she got there, and that employees had to fight to get Trump to agree to eight weeks paid leave. Marissa Velez Kraxberger wrote on Facebook that after seeing a recent ad where Trump and her root vegetable father tout his proposed maternity leave plan, "I felt like I was going to be ill."
Ivanka Trump is very proud of something called #WomenWhoWork, which celebrates women who have jobs. She has a book coming out next year about the subject, promising "highly tactical, solution-oriented content" for women in the office.
In her Facebook note, Kraxberger writes that she took the job with Trump when she was two months pregnant, and that the women at the company had to argue at length for that eight weeks. The issue, it sounds like, is that Ivanka herself didn't need maternity leave, and so seemed not to understand why other people might:
When I first interviewed with Ivanka I was 2 months pregnant, she called to offer me a job, which I was at the time very excited about, and when I asked about maternity leave she said she would have to think about it, that at Trump they don't offer maternity leave and that she went back to work just a week after having her first child. I somehow was dumb enough to accept the job after agreeing upon having the discussion further down the road about how we would handle the time after my baby was born. Our team—the ones who created#WomenWhoWork and the ones who the hashtag really stood for—fought long and hard to get her to finally agree to 8 weeks paid maternity leave.
Kraxberger, who now works for Rag and Bone, is very kind about her old boss, but does gently point out that Ivanka has a level of resources that most people do not:
I'm not writing this because I think Ivanka is a bad person. I can see how it might be possible to go back to work after having a baby when you have a lot of help at home, I think she suffered by not staying home longer with her kids when she could have. I am however saying that if you truly support parenting and children then you actually have to support it fully... and that also means supporting maternity leave for adopted children and paternity leave as well. How can she claim that their maternity policy is a comprehensive solution for our country?
G/O Media may get a commission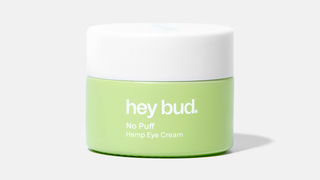 15% off
Hey Bud - No Puff Hemp Eye Cream
The federal government currently guarantees twelve weeks of unpaid maternity leave, and Hillary Clinton's proposal calls for twelve weeks of paid leave for all parents regardless of gender, whether their children are adopted or biological. Trump's plan only allows for maternity leave, because dads don't need or want to spend time with their children, a fact that Ivanka is remarkably defensive about when you ask her.

A press officer at Ivanka Trump's company didn't immediately respond to a request for comment. We'll update if we hear back.
Update, 5:30 p.m.:
A "brand spokesperson" sends over this statement, calling Kraxberger's post a "mischaracterization" of the company culture:
The team at Ivanka Trump is saddened by this mischaracterization of how our company developed its industry leading culture and benefits package. In addition to paid leave, we also offer all employees flexible work schedules and unlimited vacation and sick days.

As a company for women, run by women, we spent a considerable amount of time in the early days of building our business developing a unique corporate culture and engaged in meaningful dialogue about the benefits that would be most impactful to the people working at Ivanka Trump. 
While we respect differing political views from employees, past and present, we are steadfast in our belief that we have built a culture and a brand to be proud of and are deeply committed to supporting and empowering women.