Michael Rekola, a former communications director for Rep. Blake Farenthold (R-Texas), told CNN that Farenthold was so verbally abusive that Rekola began to vomit daily and had to seek psychological treatment. Farenthold was previously sued for sexual harassment and retaliation by another former aide, Lauren Greene, and settled the case using taxpayer funds. CNN reports that Rekola brought his account to the House Ethics Committee, and a local ABC News affiliate is reporting that Farenthold has chosen not to run for reelection.
According to a Washington Examiner reporter, Speaker Paul Ryan asked Farenthold to resign outright but he resisted:
Rekola's account was confirmed by Elizabeth Peace, another Farenthold staffer who was hired to help Rekola while he was out of the office dealing with the nervous vomiting caused by his boss's alleged abuses. She also confirmed Rekola's claim that Farenthold regularly called staffers "fucktards," and said he would sometimes "throw objects in angry bursts."
From CNN:
Minor mistakes or oversights — a typo or a failure to respond to emails fast enough, regardless of what hour of the day — could trigger furious outbursts.
"Every time he didn't like something, he would call me a f**ktard or idiot. He would slam his fist down in rage and explode in anger," Rekola said. "He was flying off the handle on every little thing. I couldn't find a way to control it."

Farenthold also frequently made lewd comments about the appearance of women including reporters and lobbyists, Rekola said, remarking on the size of women's breasts and buttocks. Some of Rekola's colleagues joked about being on "redhead patrol" — a reference to Farenthold's well-known affinity for women with red hair (this detail was also described in Greene's lawsuit against Farenthold).
G/O Media may get a commission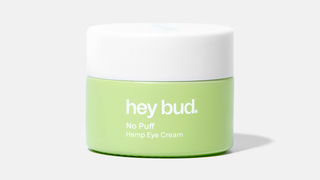 15% off
Hey Bud - No Puff Hemp Eye Cream
According to Rekola, as he was getting ready to leave for his wedding Farenthold joked about whether his fiancée could wear white to their wedding and told him, "Better have your fiancée blow you before she walks down the aisle—it will be the last time." Rekola gave his two weeks notice shortly after. Farenthold denied this to CNN, but did admit to calling his staffers fucktards "in jest, not in anger."
Friends of Rekola recalled to CNN the toll this was apparently taking on his health.
"He looked sick," one of the friends recalled. "His skin was sallow. He lost weight. He had trouble eating."

The second friend told CNN that she and Rekola took walks within the Capitol complex and that Rekola would describe Farenthold's bullying.

"The conversations were often about inappropriate things that he would say, whether it was sexual humor or really abusive in terms of shouting and overall anger that's not professional," the friend said. "It's not the way to treat someone else who's working for you."
On Wednesday, the ABC affiliate reported, Farenthold held a Skype call with constituents insisting that the sexual harassment claims against him—then just by former aide Lauren Greene—were false. The House Ethics Committee has been examining Greene's allegations. The Office of Congressional Ethics cleared Farenthold of wrongdoing in 2015.
"I just want to let everyone know, I absolutely did not engage in any improper conduct. I was investigated by the office of congressional ethics, and they found 6-0, there wasn't enough effort," he said.