If you haven't heard of Blair Fowler yet, now's the time. The 17-year-old from Tennessee is fast becoming an Oprah-of-style for adolescent fashionistas, featured everywhere from Seventeen to Good Morning America. So who the hell is she?
In short, Blair Fowler is YouTube's fashion and beauty guru for the Forever21 set. Her uploads, focusing on beauty how-tos, fashion insights, "haul" videos (in which the vlogger goes through their shopping bags, detailing their latest finds for their audience), and personal vlogs have garnered over 61 million views. She's the Queen Bee, and a marketer's dream come true.
Blair — aka JuicyStar07 on YouTube — starts each of her videos in the exact same way, giving a quick wave and saying, "Hey, everyone!" It is a greeting that encapsulates her entire YouTube existence: decidedly friendly, somehow false, and inexplicably fascinating. She's from northeast Tennessee, near the Virginia and Kentucky borders, and she's home-schooled (a recent development, coinciding with her newfound fame). The bright-pink room from which she studies is also Blair's main stage, where she maintains two channels: Her "main" channel, JuicyStar07 (309,015 subscribers as of this writing) is for her haul videos and makeup-instruction guides; OtherJuicyStar07 (176,520 subscribers) is her personal vlog, where she posts friendly ruminations on whatever she's doing at any given time, though never veering into real confessional territory. Of course, the two channels have enough overlap to make them kind of indiscernible, so to get the full Blair experience, you're best off subscribing to both.
(You could also subscribe to her sister Elle's YouTube channels — AllThatGlitters21 for the shopping and makeup instructionals; EllesGlitterGossip for the personal-vlog experience. And Blair has a traditional personal blog, though her focus is definitely on video.)
Good Morning America notes that the "haul" video trend is so widespread that it amounts to some 1,000,000 hours of free advertising for the products purchased by haulers. And as a standout vlogger with a large and loyal audience, Blair has comfortably settled in the sweet spot between e-commerce, marketing, and online video.
The GMA treatment is predictably from the perspective of a semi-incredulous mother (and Blair took issue with this after it aired), but Ms. Fowler is serious business. "To the average teen," writes Marisa Meltzer on Slate, "her seal of approval might carry even more weight than Anna Wintour's." Blair regularly does reviews and giveaways of products that are sent to her by companies that sell anything from bath products to oral care (which she discloses; she also wisely makes clear when she's reviewing something she bought on her own). BusinessInsider noted that a promotional video Blair made on behalf of an e-commerce site called ShoesofPrey brought the small site 200,000 visitors in a single day (a traffic record for them). That video promo, seen below, demonstrates Blair's ability to promote a product while appearing genuinely excited:
But for all of Blair's current and potential marketing power, it's her personal channel, where she reminisces about her elementary school days and discusses various (fairly mundane) events, that's really interesting: one gets the sense that Fowler seems to understand how to make her audience feel like they are included in her world (a tour of her room or rambling about schoolwork) without actually giving her entire world away, a balance that makes her appear open and welcoming without also making her completely vulnerable to the downsides of internet oversharing. Of course, Blair is of a generation that doesn't think twice about posting nostalgic videos detailing their first three months on Earth ("When I was born, I was born at a hospital. And then I was taken home. And I lived in that house for three months, so I don't remember it").
Banal as these videos may be, Blair's fans seemingly adore her because she's mastered a medium that many of them use on a daily basis and found a way to create her own empire simply by sitting in front of her camera and discussing her favorite things. She's made herself into a character, always impeccably dressed and perfectly coiffed — but she's always able to also project an image of friendliness and authenticity, appearing both aspirational and relatable to her core audience, who ask for her advice and celebrate her purchases as if they both know her and want to be her. In many ways, she's like the prettiest girl at your high school, who also happens to be the class sweetheart.
G/O Media may get a commission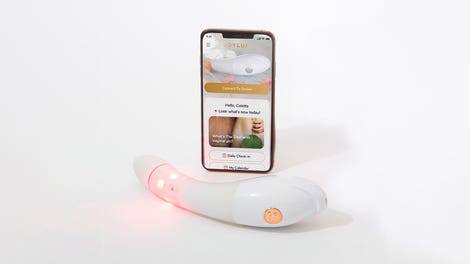 $50 Off
Joylux vFit Gold Device
It is this openness and sense of connection with her YouTube audience that makes me believe that ultimately, Fowler is a generational product: where blogger Julia Allison's attempts at "lifecasting," strike many in her generation as exhausting and unnecessary, Fowler's clips come across as totally acceptable and likable to her own, due mostly to her ability to give just enough of herself away to appear open and interested, without crossing the line into self-indulgence. Fowler presents herself as a teacher, creator, and a slightly distant bff, something that spills over into her online store, called Glitzy-Glam, which boasts that she and her sister will personalize anything — from tampon holders to boxer shorts — for you. Like her videos, her products are girlie, cute, and customized for her audience. The crossover between saleswoman and internet friend isn't just blurred, it's completely unimportant: her audience may be aware that they're being pitched to, but they don't really care, as long as the pitch is coming from someone they feel they can trust. It seems that there's no Gen X sense of treachery or "selling out" involved.
Of course, not everyone loves Fowler: There's a (slightly insane) blog claiming to expose "the truth" about the Fowler sisters — the "truth," apparently, is that both girls might not use their real first names on YouTube (which is...totally understandable) and that they might be getting paid to promote certain companies in their video clips, which, again, is somewhat understandable and not entirely surprising. The hate factor, however, seems to pale in comparison to the amount of love Fowler's fans show her after each clip, and how quickly they view her work: she can post a video and amass over 300,000 views in just a couple of days
Where Fowler will go post-YouTube remains to be seen, though I suspect we'll be hearing quite a bit more about her in the future. It would be easy, I suppose, to brush her aside as just another internet fad or a spoiled teenager will too much time on her hands — but she arguably represents the future of marketing, the future of teen beauty blogging, and perhaps even her entire generation's ability to effortlessly create a personal brand without coming across as overbearing or transparent, makes her a fairly important blogger to watch. Hundreds of thousands of subscribers seem to agree, happily waiting for Blair's next wave hello.