In 1924, she became the first woman at Stanford with a column on the student newspaper. At 19, she had a movie option, a contract for a vaudeville act, and a recording contract with Columbia. At 23, she was America's youngest feature writer and youngest syndicated columnist, billed as the "modern girl philosopher," and "the female Francis Bacon" in over 400 newspapers. She interviewed Hollywood stars for film magazines and flew cross country with Charles Lindbergh for a business journal. She even wrote for the venerable publisher of writers such as James Joyce and Edna St. Vincent Millay, The Smart Set. Soon, her sweet smile and blonde bob were enlisted to promote Gruen watches and Corona typewriters. In 1931, she received a contract to write a book, Hot, But Not Bothered, and the next year a $25,000 contract for a radio program. Her name, Velva Darling, was so compelling she had people in Hollywood offering to buy it from her.

Two years later, that name had disappeared.
Once one of America's hottest talents, by her name's final print appearance in 1940, Velva Darling was just "a plump, pink-cheeked California girl who once wrote for the papers" and "looked the name." Did she lose it all, or did she cast it aside? Was there no room in a conservative media world for a sassy, forward-thinking young woman, or was she only valued for as long as she could play just that part? Did she quit for a husband or did she only pursue her career for lack of one?
As she asked in her columns: "Can Youth Be Regained?" "Is Love Enough?" "Is Modern Life Cruel?"
They're questions at the heart of her writing and questions her life raises again. She built a journalism career on binaries, reducing complex problems to simple "yes" or "no" answers, which, rather than simplify, tended to render the problems even more complex than when she started. As you dig into her story and find direct answers to nearly every question you have, it becomes no easier to pinpoint the real Velva Darling and what drove her from the limelight.

Velva began her writing career with a provocation. There was a Stanford tradition that no woman was allowed to set foot on the stairs leading to the law school library, "The Law Steps." In becoming Stanford's first woman columnist as a senior in 1924, Velva chose to title her column, "The Law Steps." Her first installment poked fun at that tradition and also at Stanford's policy of limiting female admissions to 500, which, she noted later, served only to assure women on campus they were more select than the men.
Yet Velva wasn't a rabble rouser. For every progressive call, there was a traditionalist response. Later in her first column, she admonished members of the student body for failing to attend a recent assembly where the school president preached Stanford's values of "playing square" and "having initiative."
She certainly took the latter to heart. Within a year of graduating, she was writing features for William Randolph Hearst's Los Angeles Examiner. By early 1927, Hearst's publishing syndicate was so impressed that it signed her to a $100-a-week contract to distribute her writing nationally in newspapers and magazines. She even received an encouraging letter from the magnate himself, which she kept on her writing desk and told him was "better than a thousand dollar check!"
Her first national story, for McClure's magazine, made Velva as much the focus as the piece itself. "Galloping Grandma!" was about a new breed of older woman who denied her true years, dressing like a flapper, driving recklessly, and flirting with abandon. The story was adorned by two photos of Velva, one from her college yearbook, another at her typewriter. They took up as much space as the text. A caption billed her in giant type as "The Youngest Generation's Jazziest Rival." Another caption extensively detailed her rise: "Born in Keister [sic], Minnesota, June 2nd, 1902, her parents moved to California six months later, where the family has lived ever since."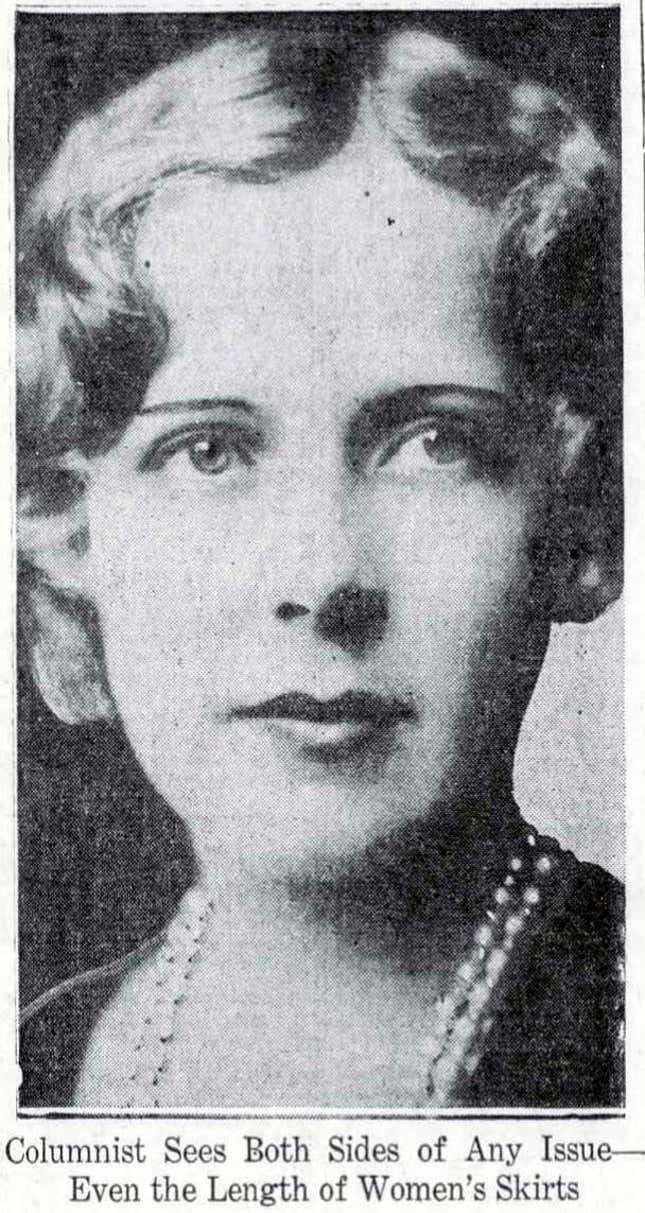 "At the age of twenty-four," it concludes, "Velva Darling is among the youngest as well as the most successful magazine feature writers in the country." The statement is misleading in a couple ways. First, I couldn't find any previous nationally-run features by her. Second, she wasn't twenty-four. For her story about the folly of denying age, she fudged her age. She was born in 1901.
But she was building something bigger than the truth. "The most important and valuable asset I have," she wrote Hearst the next month, "is the name I am making for myself in my newspaper and magazine writing." That name, and the spirit of Jazz Age youth it betokened, was in demand. An MGM producer wanted her to write film scenarios. A rival publishing syndicate was eager to buy her new column of dialogues between flapper roommates, "Hey, Hey Henrietta!" Velva's deal with them annoyed Hearst's company, but it led to a film option from Fox for $2500. In the film's poster, Velva was once again half the attraction.
By 1929 she'd left Hearst for a new syndicate, offering wider circulation and promoting the 28-year-old as more talented, and less aged, than ever:

"Miss Velva Darling, of San Luis Obispo, California, is the youngest girl whose writings are syndicated all over America. She is only 23, but she has a following that may be envied by some of the graybeards among the writing philosophers... Her best friends say she's a genius, though you'd never think it to look at her picture, would you?"
Such "subtle flattery," as Velva called it, was routine for her, with readers and even hometown neighbors feeling sure that no woman could write her stuff, or at least not a blonde.
Backhanded or otherwise, the work deserved the praise. Called, "Sometimes I Think Yes, But Sometimes I Think No," she'd been writing the column since 1926. It presented "the viewpoint of modern youth on both sides of the numerous problems of youth." She'd usually tackle questions like "Should Married Women Work?" and "Are Long Engagements Bad?" but also broader ones like "Is Genius Born?" She wrote six a week for five years, often alongside a Sunday feature. She worked from her parents' home in California but also criss-crossed the country with her father and younger brother in her car, with its built-in Corona, compiling observations along the way.
It's a silly concept, trying to answer big questions in 500 words, and the sillier it got—the more she played with the dialectical possibilities—the better it got. Often, she'd simply depart from the question she'd posed, pitting different senses of the same word against one another. Or she'd tackle bizarre non-questions like, "Do Women Differ?" and "Can't You Have a Garden?" Or seemingly un-debatable questions like, "Is Night Life Popular?" and "Is Folly Foolish?" Or utterly inessential questions like, "Do Little Boys Like Water?" The absurdity of the task brought the best out in her.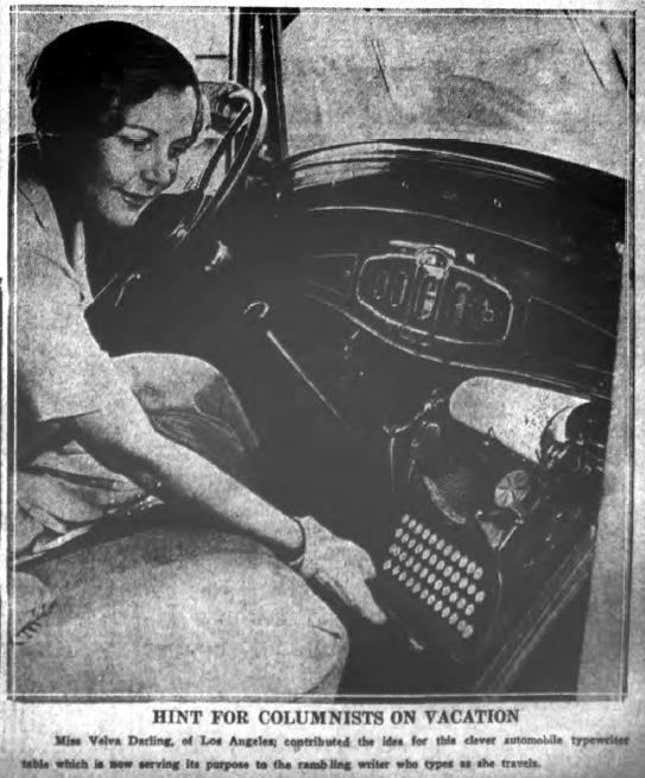 She could take a stupid problem (men's concerns about women's skirts), frame it in the stupidest way possible ("Are Girls' Knees Immoral?"), and spin gold, beginning by pointing out how odd it is that people can be scandalized by women's knees on the street but not much more flesh on a beach, and then concluding, "It is always the half-hidden, half-exposed things which cause catastrophe. In long skirts, a girl's knees are not dangerous. Entirely without skirts they are equally as unimportant and as easily taken for granted. But with half a skirt—half-hidden and half-revealed—they are dynamite. And this applies not only to skirts but to every situation and truth and activity in human life. It is always uncertainty which does by far the greatest damage."
In the best ones she doesn't take her own game seriously, instead baking in her preferred answer. Consider the question, "Have Girls Too Much Liberty?" Before getting to why they don't, she weights her treatment of why they do: "Poor little self-supporting Mary Ann, for instance, earning her twenty-five a week without half trying, can never know the depths to which the feminine soul can go when it sacrifices self-respect, happiness, and even sanity, for the sake of the children—and continues to live with a man she loathes so that their offspring can have a good education." No, she says, such a liberated fool would "tell her husband exactly what she thought of him and go out and earn a lot more money than he ever did."
The column appeared nationally in newspapers' "Women's Pages," which tended to offer a conservative outlook to their readers. Sometimes her column would be surrounded by those of two or three men. The women columnists were usually a generation or two older than her.

Yet Velva knew she wasn't just writing for women. She said she'd often get letters from "male woman-haters." The "most vitriolic" ever came in response to the question "Should Wives Have Men Friends?" The only two pieces of hate mail I could find came from men responding to the question "Should Women Be Mothers?"
She handles the topic carefully, beginning "Sometimes I think they shouldn't be anything else BUT." Yet after describing an ideal mother, she presents one who just can't muster affection for her child. To such a woman "motherhood is merely one of the unusually disagreeable incidents she has to undergo on her way through life. She considers children a nuisance, a bore and an obstacle to her personal happiness. Women like this make splendid successes as business executives, artists, actresses and first rate interior decorators." Velva doesn't put things just how we might like today, but she knew she was courting controversy. The column ends: "Go ahead—hit me!"
It was bold simply to entertain both sides of certain questions. Yet it would be unfair to ignore the conservative sides she also displayed, all those conclusions that fit easily on a 1930s "women's page" but would be rather unappealing on a modern feminist website. While she could mock marriage as nothing more than the "love of a man for a maid," she could also suggest that "in nine cases out of ten, where girls are entirely independent, the one dream in the depths of their hearts is not to be."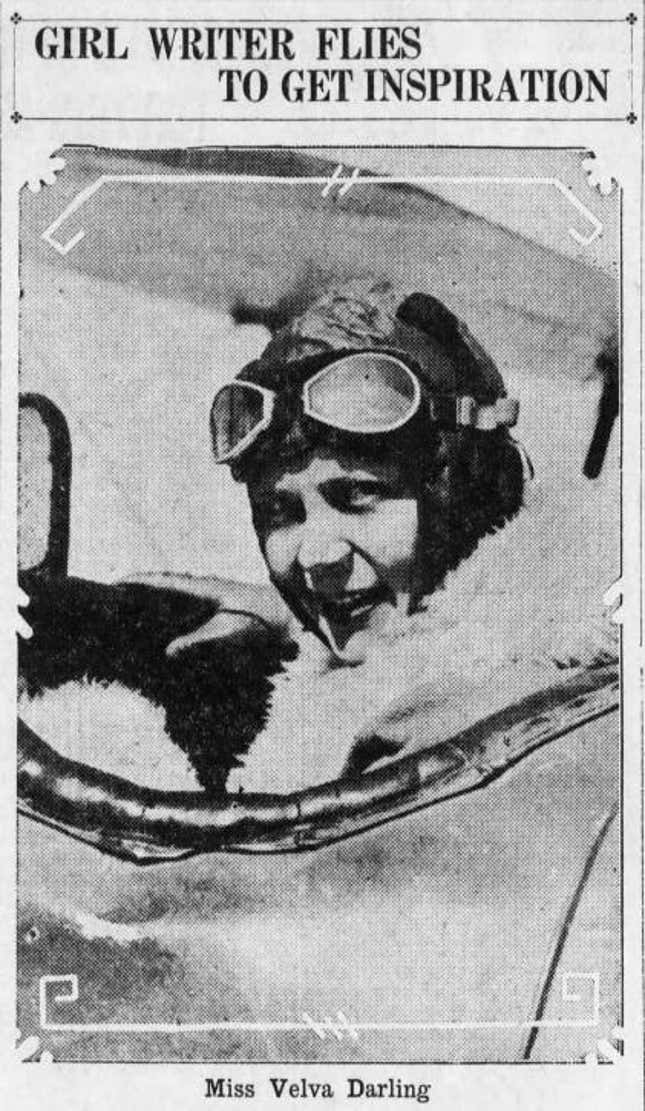 Regardless of her actual opinions, Velva's role was not to upset things too much. Although she was billed as a "flapper herself," she frequently wrote of the passing of the eras of flappers, gold-diggers, and short skirts in a way that must have appealed to traditionalists. Indeed, I found a Presbyterian church notice referring to her writing as a sign of positive change in the youth. Velva promised repeatedly that the worst feminine excesses of the twenties were fading, even as she insisted some things, like the working girl, ought to stay. As a slightly older woman, she played the part of a slightly younger woman to appeal to much older men and women.

But with every year her selling point must have felt more like a sell-by date long since surpassed. It's difficult enough getting older without a gimmick tying your career to youth. Again and again her columns discussed the problem of aging: "Is Age a Matter of Years?", "Do We Need To Grow Old?" In 1929, she wrote one asking, "Is 28 Too Late for a Girl?", but she had to make it clear the question was purely academic, writing, "If I were 28…" She'd turned 28 a month prior.
This ploy that made her name could only work if her name didn't get too big. As she put it in "Can Youth Be Regained?", "Today no woman is old until she LOOKS it—unless she is so prominent that everybody knows how long she has been active on the earth." Her hustle pinned her into a corner.

She had other secrets to keep. She frequently wrote, for instance, of divorce, expressing opposition to it but also passionate support. What her readers couldn't know was that this perpetual 23-year-old was speaking from experience. In 1925, 24 but claiming 23 for the first time in a court document, Velva eloped with a fellow Stanford grad named John Biddle Dorcy, who was, as a Pennsylvania paper noted, "a Philadelphia Biddle." It didn't last; he sailed for China almost immediately after. She hid the truth from her parents, but they apparently found out when the paper called. Whether it was a divorce or an annulment is uncertain. Dorcy went on to work as a Hollywood stuntman. Velva would write columns like "Are Divorced Women Different?", perhaps speaking from experience in noting that they "AREN'T different. They are merely HUMAN." But nonetheless the divorcee "feels that she is 'different,' and all unconsciously puts up a barrier between herself and the rest of the world."
Most of her columns concerned relationships. She painted men as charming but also frequently unfair. They wanted women of accomplishment, of cleverness and knowledge, but wanted these worldly qualities which had first attracted them confined at home after marriage. She rarely mentioned her own relationships, aside from a story about an engagement she ended after the guy blew up when he saw her chatting with an attractive old college friend. But it's hard not to see her life in her columns. Certainly the press did. On Christmas Day, 1930, when the Oakland Tribune announced her engagement, they threw her own formula at her: "Sometimes Yes or No, but Not this Time; Really Love, Thinks Writer." "The only indecision," they reported, "is about the date, and that is to be announced shortly." They had more questions though:
Will marriage interfere with her writing career?
"It will not," she said today.

Are you going in for housekeeping?

"Well, not heavily."
The questions were fair, as they were her own. Probably no topic divided Velva more often than this tension between marriage and career. And perhaps her concerns intensified as she faced the prospect of her own matrimony. Within a month of her engagement, Velva wrote columns titled, "Do Men Prefer Servant Wives?", "Should All Women Marry?", "Should Only 'Mature' People Marry?", "Is Marriage a Woman's Game?", and "Is Marriage Doomed?"
Another, "Do Only Lazy Ladies Marry?", suggests she must have been entering into the arrangement with clear eyes: "Marriage is willingly putting your life in jeopardy, going down into the valley of shadows from which you may never return in order to give birth to a tiny baby. Marriage is sacrificing your youth, often your personal happiness, for the sake of children. It is a denial of yourself such as no prima ever experienced for the sake of her art. It is deliberately choosing hard, uninteresting work, the loss of youth and beauty, the grain of worry, neglect, oblivion for the sake of love."
Early the next month she asked, "Should Wives Have Careers?" In treatments of this question, she always appears to feel more strongly about the "Yes." Her feature stories, requiring no balance, seem to confirm this leaning. As she wrote in one months after her engagement, "No idle woman can be happy."
She must have been conflicted. The Tribune story said she'd already been seeing her fiancé, an attorney named Eugene H. Marcus, for three years before the engagement. And that announcement about the wedding date was not forthcoming at all. Instead, Velva was working to preserve her suddenly rocky career. Her publisher was apparently going to let her contract lapse. So to keep her name alive, she'd written a couple months prior to Hearst, trying to renew an old partnership and preserve an old angle. The world still needed someone to speak for young women, she said. The world still needed a "'modern girl philosopher'!" He wasn't interested.
Radioland was, however, and in 1931 she began a regular program focusing on young women, Hollywood news, and advice to the lovelorn. But a month into her contract, she was fired, supposedly in response to a minister who complained her show was "too risqué and modern." Marcus represented her in a breach-of-contract lawsuit as she worked at other stations, apparently with success. In 1932, Broadcast Weekly was still presenting the 31-year-old as a 23-year-old prodigy. Radio Digest was reporting of aspiring actresses trying to buy her name. The next year, she began her own comedy series called "Crashing Hollywood."
Yet by late 1933, she was off the air, listed only as "publicity" for a station in Beverly Hills. By early 1934, someone else had that role, and her name and her once-promising career simply vanished.

Before it ended, Velva's radio career brought her voice all the way to Eugene, Oregon, the city her only surviving son, Rick Marcus, would make his home a few years after her death in 1969. He was born in 1942, the first of two sons.
I had no idea whether Rick would even know half the history that I'd dug up, whether he even knew she had been a writer, whether he even, I thought nervously, liked his mother.
He settled the last question right away. "She was just an absolutely magnificent woman. She was an angel," he told me soon after we began speaking. "I've never met anybody that had that perfect blend of kindness and courage."
He was confused by the interest after so long, but also pleased by the chance to talk about his mother. So there we were, on a night in mid-June, the two people on earth who know the most about Velva Darling: me, all historical record; him, all loving memory.
There was little overlap.
In trying to reach Rick, I first found contact info for his son, who forwarded my email along. When Rick emailed me, the subject line read "Velva Marcus." It was slightly disorienting. This was his Velva, not the one I'd been reading, and it momentarily felt like a challenge, an assertion of his claim on the true Velva. But it was really just the only Velva he knew. And it became apparent that Velva Marcus in life differed considerably from Velva Darling in print.
Some of Rick's memories were clarifying, revealing just which side Velva really took. Take "Is a Faint Heart an Asset?" where Velva argues convincingly for and against bold actions. One of the first stories Rick told me was about a time when he was around six and the family was spending Christmas at Lake Arrowhead in California. His parents gave him a pair of skis, and Rick took them, walked out of their rental across the hillside and over to an edge of a slope heading straight down to the lake.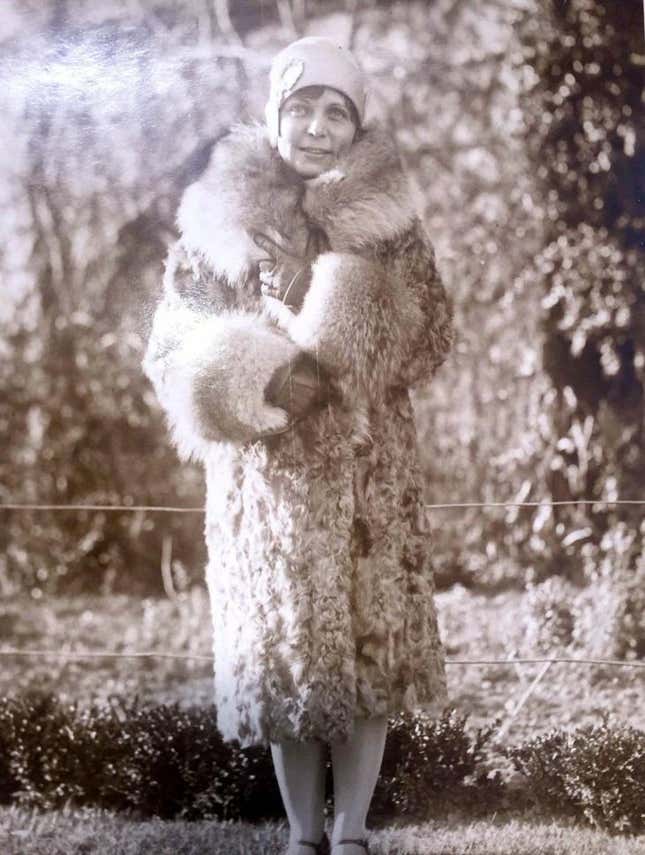 "My father had walked out on the balcony and was looking at me and screamed at me to stop," Rick said. "And my mother walked out right behind him, she looked the whole situation over, and said, 'No, no, no, no! Go ahead! Go!'"
He ended up wiping out close to a drop a little before the lake, but he was fine, and he cherishes the moment.
Velva's action was entirely in character as I understood her, but many of the things she told readers didn't line up with Rick's memory. I offered a list of passions she divulged in her columns. Did she garden? No. Love football? No. Play the ukulele? No. Fly a plane? No. Not his Velva.
Was she funny?
"No," he said. "She wasn't somebody who cracked jokes or said clever things that make you laugh. She was mainly very straightforward and very calm."
But not only was she funny in her writing; she considered herself as such in life, referring at one point to "the funny, bombastic individual who writes this column." How could he not remember her as funny? But then, what child thinks his parent is funny? And then again, maybe she'd matured out of wisecracks.
Or maybe she'd never been what her journalism seemed to portray. I asked Rick what he thought of her writing, and he admitted he'd seen little of it. As it turned out, the only works I knew of but couldn't obtain, Velva's "Henrietta" columns, were all he had. Everything else, which Velva kept in a giant trunk of scrapbooks, was destroyed in a Los Angeles earthquake in 1972. The "Henrietta" scrapbook happened to be out of the trunk and survived. He'd also lost all his parents' letters.
I shared with him all the old stories I'd dug up, including, after carefully inching up to it, that of Velva's elopement, its quick end, and her efforts to hide it from her parents.
"My poor mom!" he said, but he took it well.
Of the journalism he had read, he said, "I was unimpressed." He sent me some of what he had, and indeed the columns are nothing special. "I was never interested in her writing at all," Rick admitted. "I was interested in her story, and I was interested in her."
The Velva he knew wasn't interested in her writing career either. "I have memories of her telling me when I was probably in my early teens that she hated it," Rick said.
All the stories she told of her life in those days were positive, but stray remarks indicated that she had been dying to give it up, to return to anonymity and calm. "I don't remember her leaving that house very much at all," Rick said. "She stayed home almost all the time." As far as he could tell, she had "no ambition whatsoever.… To me it seemed really natural and quite normal."
Is this the Velva who wrote a few months after announcing her engagement that only a "half-wit" could be satisfied with domestic life?
In Rick's understanding, work was simply never her; it was her father. Rick said he was an "old-school, hard-knuckle guy" who had made his fortune with a retail store and was bent on making successes of his children too. "He was a very tough man. I mean really tough," Rick said. "He was a shitkicker." He prodded Velva to Stanford and kept prodding her further: "He pushed my mother quite hard to follow her talents. And she did. Beautifully. But I really feel there was a lot more duty involved than passion."
Velva sort of attests to this herself. In "Should Girls Stay at Home?", she writes that "the girl who can surmount the difficulties and master the training she has to undergo in her FATHER'S HOUSE stands the greatest chance for making her life a successful, happy one. It may be stiff training, but it's worth it."
Of course, that just makes it sound like Velva appreciated the pressure.
Beyond her father's house, Rick feels, there were other forces guiding young Velva: "She was going back and forth to New York and meeting with people with J. Walter Thompson, advertising agencies, these big, high-powered public relations firms. So God knows what she got involved in."
Those people probably crafted the image I first stumbled upon, the one you read in the opening of this story, one full of half-truths and lies. There was her age, of course, and then much more. She didn't fly with Lindbergh, but in a plane accompanying his. She wasn't in Smart Set, but in McClure's, later rolled into Smart Set. She probably didn't have those recording and book contracts and surely didn't get $25,000 for one of them. One wonders if her backers sought the Corona endorsement, rather than vice versa. Her movie really was made, but, through no fault of Velva's, was deemed too poor to release.
Rick feels the whole content of what she wrote was likely as contrived: "I shouldn't say this, because I don't know what she was thinking," but "it all sounds kind of like a scam to me … like something she would do for the market, not necessarily because she took it seriously."
Velva's letters to Hearst sometimes suggest as much. She seems to stand outside herself, thanking Hearst in one for putting "Velva G. Darling on the literary map," declaring in another that a recent publicity event resulted in "fifty feet of film taken of Velva G. Darling," and repeatedly calling herself "your youngest feature writer." She knew the score. And she'd been a mercenary from the start. Rick said she only became an English major at Stanford after getting caught selling writing essays for classmates and forced by the school to abandon Law.*
Now nationally known, she was still on the make. When she wasn't courting new editors during drives across the country, she was wheedling Hearst and his men for wider exposure. It must have been exhausting. Rick sympathizes because he had his own screenwriting career in Hollywood he walked away from. "All that schmoozing has to go on along with it, and that wore me out," he said, "and I think it wore my mother out."
Rick's understanding is heartening as it gives Velva agency over her life: "She was operating within the world that she had been compelled to enter, and then later in her life she chose a world that was quite different."

We pigeon-hole our parents, of course, forgetting that what we know is just a side they've chosen to reveal. We select similarities and differences as befit our feelings toward them. Yet writers are just as selective in their revelations as parents are, and their readers can be as tendentious as children. Rick's reading of his mother happily abandoning a writing career is inflected with his own decision to do so, but my own hesitance to see her happily abandoning a writing career is influenced by my own commitment to one.
To him, Velva's writing is rather trivial, far from the profound woman he knew; to me it's delightful, and representative of the only Velva I can know. "For me she was a very serious, sensitive, compassionate person," Rick said, "and I think she wanted to just sit in the garden and meditate and not get out and shake the rafters."
She loved reading Emerson and Thoreau, he said, names I'd also seen in her columns. What about another she often mentioned—H.L. Mencken? "She loved Mencken." Another name that frequently came up—George Bernard Shaw? No recollection there.

Velva could spend her days reading great books or churning out copy. Rick feels the choice was easy. She didn't have to go in for housekeeping; they had maids.

"My father asked her to marry him the second time they went out," he said. "When he would talk to me privately about her, he would just say, 'You have no idea who your mother is.'… He thought the world of her." He was the one who bragged about Velva's career.

Eugene was a lawyer and a showman. When they'd be out to dinner at some place with live entertainment, he'd join in the performance. Though Rick didn't know this, he apparently was so entertaining Velva occasionally had him on her radio show. He loved to argue so much, Rick said, that "if he saw two people arguing on the street walking by, he'd stop and listen and take sides."

Yet the marriage was not contentious: "My father would mention to me every once in a while how unique it was that they never fought with each other, and I would notice that he was right; they didn't." Of course, they did have differences of opinion: "She told me once that the way she got him to do what she wanted was to argue for the other side."

The couple married in 1934. Velva sold her automotive Corona and would soon retire to the serenity of the Outpost Estates home where Rick grew up. She was free from the rat race.

And yet, when I looked in city directories for the next few years after she became Velva Marcus, I kept seeing a separate listing: "Darling, Velva G (writer)."

She had put off marriage until her career was in trouble; then she'd prolonged her engagement for year after year; and then even after, as late as 1938, it seems she wasn't willing to relinquish the name she'd worked so hard to build.


At least 25 times in Velva's writing, she speaks admiringly of Benito Mussolini. This was not unheard of in America at the time, but it still feels a little odd on a women's interest page. She seems to admire his initiative, his belief, as she quotes him in a feature adorned with a large photo of the dictator, that "this life means struggle, risk, tenacity, and, above all, disentanglement from tradition and foolish vagaries!"
In another feature, Velva speaks of being beset by "that ceaseless, driving urge to do something bigger and still better than anybody else ever did it, to BE somebody more beautiful and clever and talented than any girl ever before was!" She seems filled with ambition. And this feeling colors her views on matrimony: "Love and marriage cannot really take the place of a career. A career satisfies a longing in a woman's personality that is entirely separate from that part which is satisfied by love."
Is it really possible Velva could have expressed such sentiments repeatedly for years and not really felt them? Could all of her prose have been concocted to sate the demands of her father and editors and publicists and never her deepest self? Why would she have delayed marriage so long if there wasn't a vital part of her that wanted to fulfill all that promise first?

I think Velva answered these questions in the very format that defined her career. I think she meant what she wrote, and also didn't.
The pieces where she rigs the question in ways aligning with your views are particularly enjoyable, but part of her talent lied in fulfilling both sides convincingly. Usually, it really was unclear where she stood. She could suggest that housekeeping was the height of drudgery, and then write, "some day I'm going to do nothing BUT keep house! … I'm going to keep house from dawn 'til dark, bustling from one shiny corner of my cottage to another."
Reading in the moment, you really believe she believes whichever side she's presenting. And she was able to pull that off, I think, because she often really did believe both sides. As a woman straddling new and old customs, Velva surely felt the attractions and detractions of both. She could write that marriage needs to be "reduced to its proper and not-terribly-so-important place in the scheme of living," and also, a week after her engagement, write, "I don't want my marriage casual…. And the institution of marriage as your mother understands it—is what I mean."
Contrasting "both sides" is a horrible way to approach problems like global warming or fascism, but it's a fine way to approach the human mind. While reading Velva's story in a way that gives her agency in spite of the barriers she faced as a young career woman is appealing, people can rarely have complete agency over their lives, in some part because they can rarely feel complete certainty over their own desires.
I think Velva felt everything about her career she told Rick and also everything she expressed in her writing. I think she wanted to have everything publicists promised and wanted to walk away from the whole thing, too. It's not clear just what tipping point ended her career—whether she overcame her ambition or lost the industry's backing—but both probably suited her. At least part of her.
She could write in one column, "I don't LIKE what I'm doing. I think writing a two-sided column is just about the hardest, nose-grindiest thing a girl could pick out to spend her mornings doing. I try to be joyous about it, but—a typewriter is a typewriter and nobody can imagine it is a tennis court on a sunny morning." And in another she could describe herself as someone who "simply dotes on great, big long hours of hard work." She was both.
"I am going to tell you a secret," Velva writes toward the end of one of her bravura performances, "Are Columnists Ever Wrong?" (Yes: others are; No: she isn't). "I may say the modern girl is noisy and aggressive and naughty. But I ALSO say that she is quiet and modest and good. Because she IS. Everything is a paradox. There is no truth, no, not even a situation or an idea or even a flat statement that hasn't its other side."
Velva was 23, and she was 31, and I bet she wanted to be both, which also means neither. She surely relished the gimmick that sparked her career and also just wanted to grow up. In one of her features, she writes about a picture she kept in her room of a contented-looking old lady: "When I look at that picture I WANT TO GROW OLD! How wonderful it would be to know at last just what your abilities are, and your strength, and your eternal 'possibilities!' How perfect to know at last that happiness lies only within yourself." Caught in the middle of a life of striving, pretending to have a life of youthful insouciance, she could reach forward to feel a twinge of the satisfaction of a life well-lived. The Velva Rick knew was just waiting to emerge, and though his Velva probably still carried vestiges of her youthful ambition, I believe with him that she arrived at just that contentment she had predicted.
Velva Darling Marcus was probably a tangle of contentment and regret. She was likely a range of opinions, some of them lovely, some of them not. She had goals she wished she had met and goals she wished she had never met, and the lists overlapped. She was one person as a parent and another as a spouse and another as a writer and still yet more by the moment. She was a liar and she was misunderstood. She was traditional and she was progressive. She was frivolous and she was serious. She was confounding and she was an open book. She was half the things people thought they saw in her and thousands more that nobody would ever glimpse.

*Rick Marcus clarified that Velva Darling did not write these essays for pay.
Andrew Heisel is a writer living in New Haven, CT. Follow him @andyheisel.