Dooooooooood, Leonardo. I get that charity is awesome and everything, but are you aware of what you just signed up for? You know when you're stuck on a two-hour plane flight next to, like, an evangelical baby with diarrhea who sells P90X subscriptions (child prodigy) and it is literally the worst thing ever? NOW IMAGINE YOU'RE DOING THAT ONLY YOU'RE IN A TINY CAN HURTLING THROUGH THE COLD VACUUM OF SPACE.
We just got word that a trip sitting next to DiCaprio on Sir Richard Branson's Virgin Galactic space flight went for $1.5 million at amfAR's annual gala and auction at the 2013 Cannes Film Festival.

Another pair of tickets on the same flight went for $1.8 million. Branson hopes to launch the first trip from New Mexico at the end of the year. Seats on the flight go for about $200,000.

That's not all DiCaprio had to offer at the star-studded event, which took place at the Hotel du Cap.

A $2.3 million bid nabbed a package that included two tickets to the premiere and afterparty of DiCaprio's upcoming drama Wolf on Wall Street and an Oscar weekend that includes a room at the Beverly Hills Hotel, a Chopard watch, tickets to the Weinstein party and attending Elton John's annual viewing bash and Vanity Fair's legendary soiree with…Heidi Klum!
Taking one for the team, Leo. It's amazing. I'm pro. But just for the record, if I'm ever in a spaceship and, say, Joe Francis straps in next to me, I'm going full reaver. [E!]
---
What's new with Amanda Bynes's allegations that In Touch "morphed" photos of her face on to the body of a ne'er-do-well to make it seem like Amanda Bynes is the kind of girl who hangs out in Amanda Bynes's apartment doing drugs with an "ugly faced black man"? Well, basically Bynes's friends are like, "Oh, honey, no."
A source close to Amanda, 27, says there will be no lawsuit because the pictures are absolutely of Amanda and her apartment.

"Amanda has no grounds whatsoever to sue the magazine because that is her in the photos and it's definitely inside her apartment," the insider exclusively told Radar.

"I've been in her apartment. That's her bed and that's her bathroom, and that's Amanda."

According to the source, Amanda is in denial over the photos because she's embarrassed by them…and may not remember them being taken.

"Amanda lives by 'deny, deny, deny,' so that's what she's doing. But she knows that's her apartment and that's her in the photos. She's just embarrassed," the insider revealed.

"And she was obviously partying that night and probably doesn't even remember the pictures being taken in the first place."
G/O Media may get a commission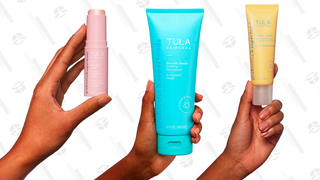 Everything sad. Everything no. Everything stop. [Radar]
---
Hot girl-tip: Aaron Carter is currently handing out tips. For girls. Run, don't walk. #tipsforgirlswhowanttips
Aaa-ron. Oh, Aaa-ron. What are we going to do with you? [Twitter]
---
January Jones would like all y'all to fuck off about her sexual orientation.

"It's just not something the public needs to know," she tells Edit magazine. "I don't divulge my sexual preferences. There are parts of your life—no matter what your job—that should remain private."

Like a boss. [E!]

Daniel Radcliffe: "I've had an amazing decade." Braggin'. [JustJared]

Jason Sudeikis says he'll stay on SNL if Barbara Walters stays on The View. [E!]

Stacy Keibler wants a rom-com career, loves Tom Hanks, kale. [Metro]

Here is Gisele Bundchen's little sister. [Us]

Prince Charles's helicopter was forced to make an emergency landing because it was broken, which is probably my #1 least favorite adjective to apply to a helicopter. Listen, helicopters. If you're going to hover around in the sky like crazy metal bugs making absolutely no sense, I'm going to need you to NEVER BE BROKEN. You have no compassion for my poor nerves. [E!]

Evan Peters from American Horror Story has joined the cast of X-Men: Days of Wine and Roses. [E!]

We're all brain-melding Sunday night and watching Behind the Candelabra in one massive global hive-mind, right? [Extra]

Here, Oprah grew you this lettuce. Eat it. You love it. It tastes like Oprah. [LifeFiles]

Authorities think rapper Tim Dog faked his own death to avoid paying back his debts. [MTV]

Kim Zolciak reportedly awful. [Radar]

Lea Michele got a book deal. It will be a memoir entitled Brunette Ambition. "Book." [E!]

Butt like "kapow."

Images via Getty.