If we needed any more evidence—to be honest, we probably don't at this point!—that Representative Ron DeSantis, the Republican candidate for governor in Florida, is an out and out racist, here's one more data point: he's a big fan of the conservative activist David Horowitz, a man who believes that black Americans owe their freedom to whites, that "the worst thing that's happened" to black people in Africa was decolonization, and that the "only serious race war" is against whites.
As the Washington Post reported, DeSantis has spoken at conferences organized by Horowitz on four separate occasions, most recently in 2017. He just loves the guy.
"I just want to say what an honor it's been to be here to speak," DeSantis said during his speech in 2015, according to the Post. "David has done such great work and I've been an admirer. I've been to these conferences in the past but I've been a big admirer of an organization that shoots straight, tells the American people the truth and is standing up for the right thing."

Horowitz is also a noted Islamophobe, asserting in the past that President Obama was an "anti-American radical" and a secret Muslim, and that "Palestinians are Nazis."
DeSantis, who is facing Tallahassee Mayor Andrew Gillum in the gubernatorial race, has already amped up the racism in his campaign against Gillum, a black progressive Democrat who campaigned on a platform including Medicare for All and raising the minimum wage. The day after the primary, DeSantis went on Fox News and deployed language that went waaaaaaay beyond a racist dogwhistle, saying, "The last thing we need to do is to monkey this up by trying to embrace a socialist agenda with huge tax increases and bankrupting the state."
G/O Media may get a commission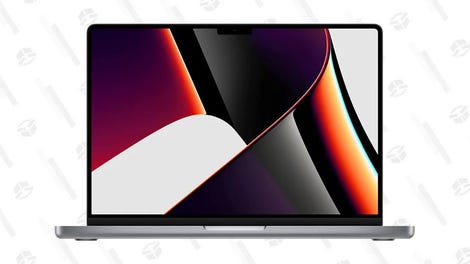 Save $300
2021 14" 1TB MacBook Pro
And let's not forget DeSantis's nauseating campaign ad in which he encouraged his toddler to "build the wall" with building blocks.
Floridians—please do not vote for this man!!!