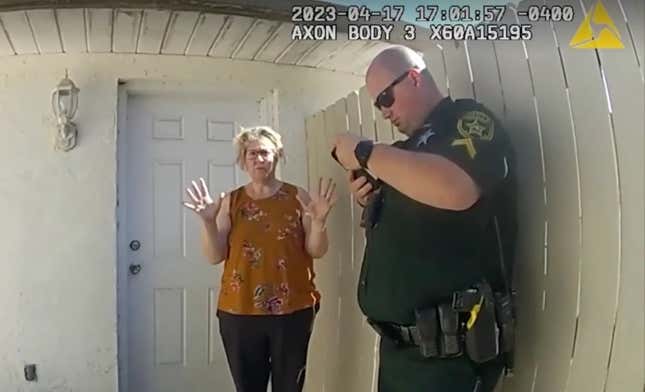 A white woman in Florida who shot and killed her Black neighbor through her locked front door last month routinely called the police on neighborhood kids without cause, according to per new body camera footage shared by the Marion County Sheriff's Office this week.

The white woman, Susan Louise Lorincz, currently faces charges for one count of manslaughter with a firearm and one count of assault for killing Ajike Owens, a state attorney confirmed last month. On June 2, police and lawyers for Owens' family say Lorincz shot and killed Owens after the latter woman had come to speak with Lorincz after she yelled at Owens' kids—calling them racial slurs including the N-word and "slaves," by Lorincz's own admission—and took their iPad, then threw a roller skate at them.
In police body camera footage collected over the last year and shared this week, officers acknowledge that for months, Lorincz repeatedly called the cops on neighborhood kids—including Owens'—for "trespassing," even though the kids were playing on publicly shared property.
The footage shows a 10-year-old child telling an officer that Lorincz called the kids the N-word; another girl said Lorincz had called them "sex slave bastards." These claims come to light after Owens' son told police in June after his mother was shot that Lorincz had once told him, "This isn't the underground railroad, slave."
In contrast, despite admitting to police last month that she used these racial slurs, body camera footage from last August shows Lorincz complaining to police about the supposedly great offense of neighborhood kids calling her "Karen": "I don't want to be intimidated by them screaming and yelling at me, telling me that I'm a bitch, calling me 'Karen'… I mean, they're calling me names," she told officers at the time. Neighborhood parents told her their kids weren't hurting anyone by playing on public property, Lorincz told police, but she disagreed: "They're damaging me," she said, claiming the noise the kids made had given her migraines.
In February 2022, Lorincz was involved in a physical altercation with Owens involving a lawn sign. Lorincz claimed to police that Owens had hit her with the sign, while body camera footage shows Owens denying this and explaining that Lorincz was "basically ramming the sign in my face," prompting her to pick up the sign and toss it away. One neighbor corroborated Owens' claim to police that Lorincz had lied about being hit by the sign: "All [Owens] did was tell [Lorincz] to stop yelling at her kids. That lady yells at everybody's kids out here," the neighbor said.
Footage shows Lorincz telling officers "I'm like, the perfect neighbor" in November 2022, but her neighbors told police that Lorincz would loudly rev her car in retaliation when kids or dogs made noise, and park near where children were playing and purposefully set off her car alarm to disturb them.
The publication of the footage comes after nearly a month of controversy surrounding the case. Community members first expressed outrage that it took several days for Lorincz to be arrested, as the sheriff's office investigated whether Lorincz was protected by Stand Your Ground laws that allow people to defend themselves with deadly force if they fear they're in imminent danger. Then, after Lorincz was arrested, a Florida state attorney revealed the state would not pursue murder charges against her because there was "insufficient evidence" that Lorincz had a "depraved mind" (that is, or "hatred, spite, ill will or evil intent toward the victim") at the time of the killing. However, Lorincz's own admissions about how she spoke to Owens' kids—and now, hours of police body cam footage—seem to suggest otherwise.
In a statement shared with Jezebel last month, attorneys for Owens' family expressed frustration with state authorities for not prosecuting Lorincz for murder. "We are deeply disappointed by this decision," attorney Anthony Thomas said. "The failure of the prosecutor to charge [Lorincz] with what truly reflected her wanton, reckless behavior undermines our ability to even get real accountability."