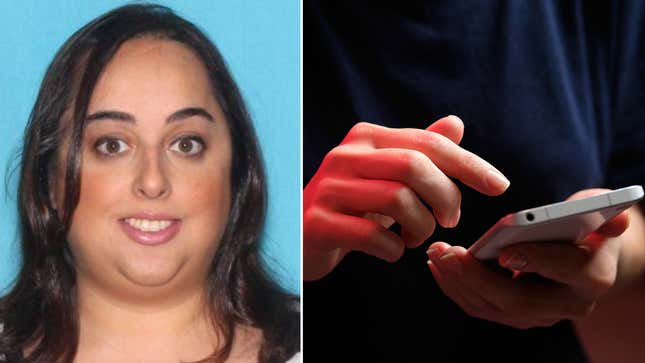 Each day it seems the human race strays further and further from God's light: CNN reports that as of Wednesday, a 36-year-old Florida woman (of course) leveraged a romance scam to steal $2.8 million from an 87-year-old Holocaust survivor based in Manhattan. The woman, Peaches Stergo (who went by "Alice" during the scam), now faces one count of wire fraud for allegedly preying on the unnamed man between 2017 and 2021.

Per the Justice Department, Stergo met her victim on a dating website about six years ago. She lied to him that she'd recently "settled a lawsuit involving injuries in a car accident but that her lawyer would not release the settlement funds until he received a certain amount of money," the indictment says. In May 2017, the 87-year-old sent his first check to Stergo for $25,000. Moving forward, he wrote "almost monthly checks" to Stergo, "often in increments of $50,000." Stergo allegedly justified these demands for money by repeatedly telling the Holocaust survivor that her bank "needed more money" or her account would be frozen.
"The defendant callously preyed on a senior citizen simply seeking companionship, defrauding him of his life savings," Michael J. Driscoll, the assistant director heading the FBI's New York field office, said on Wednesday, announcing the charge against Stergo.
Stergo was well on her way to scamming even more than $2.8 million from her victim until October 2021, when the man's son learned about the situation and stopped his father from sending any more money. But she'd already received enough to live pretty comfortably: "'Alice,' the defendant, was motivated to engage in the fraud scheme to enrich herself. She has lived a life of luxury with the millions she received from the fraud: she bought a home in a gated community, a condominium, a boat, and numerous cars, including a Corvette and a Suburban," according to the indictment.
The DOJ also detailed her varying "expensive trips," "staying at places like the Ritz Carlton," where she "spent many tens of thousands of dollars on expensive meals, gold coins and bars, jewelry, Rolex watches, and designer clothing from stores like Tiffany, Ralph Lauren, Neiman Marcus, Louis Vuitton, and Hermes." In stark contrast, her victim "lost his life savings and was forced to give up his apartment."
Romance scams aren't rare, and there's certainly more awareness of this issue since Netflix's Tinder Swindler documentary premiered last year. About 99% of domestic violence cases involve financial abuse and exploitation. The Federal Trade Commission reported last year that financial losses to romance scams reached a record $304 million in 2020, up 50% from 2019. Psychology experts have also emphasized that the curated, oft inauthentic imagery presented on social media, as well as grand romantic gestures, fear, and manipulation can render even the most cynical people vulnerable to romance scams.
Of course, it's especially twisted that Stergo's victim was a literal Holocaust survivor. Stergo now faces up to 20 years in prison and is set to appear in federal court in Florida on an unspecified date.