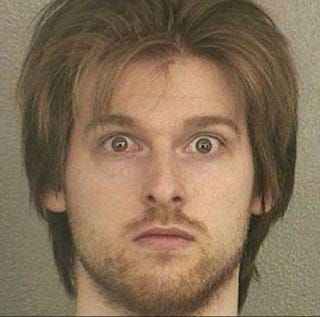 A teacher at a Christian school in Florida was arrested this week after he was caught partially naked with a 14-year-old student.
Eric Beasley, 24,a second-year teacher at Zion Lutheran Christian School was found semi-nude in the backseat of a car with the 14-year-old student. Police say Beasley told them he was the girl's 9th grade Biology teacher. (I would make a "biology" joke here, but holy fuck is this gross. JUST GROSS.) According to CBS 4 Miami, Beasley also told police it was not his first time having sex with the girl. OH UGH:
After he was arrested, police said Beasley admitted to multiple sexual encounters with the girl starting in February and running through Wednesday [when he was caught]. Beasley gave detectives permission to search his cell phone and during the search, police found a picture of a penis and then a video of a man masturbating, both of which were sent to the victim's cell phone. Lighthouse Point Police said the picture and video were of him.

Police also said that Beasley engaged in "inappropriate behavior" with the victim during school hours at Zion Lutheran Christian School.

[...]

Beasley was charged with nine counts of sexual battery by a custodian with the victim being under eighteen but over twelve.
"That's a shame because this is a very nice school," said parent Beverly Majors.
Beasley is on unpaid administrative leave while the case is being investigated further. Police were on campus last week interviewing students about their interactions with the teacher.
Via Christian Nightmares.