A Florida judge who jailed a crying survivor of domestic abuse is being sanctioned by the state Supreme Court. Seminole County Judge Jerri Collins jailed the woman for three days last summer after brutally berating her in court, telling her, "You think you're going to have anxiety now? You haven't even seen anxiety."
Collins jailed the woman for contempt after she failed to appear to testify against her attacker, the father of the woman's one-year-old child. The woman told police that the man choked her, threatened her with a knife and ground his thumbs into her eyes. But the woman didn't appear in court to testify; when compelled to appear, Collins berated her at length:
"Your Honor, I'm very sorry for not attending," the woman told the judge, through tears. "I've been dealing with depression and a lot of personal anxiety since this happened. And I just, my anxiety is, like, I just—this is every day for me. We are trying to separate and it's just—things were... I don't know."
"Why didn't you show up to court?" Collins demanded.
"My anxiety," the woman replied.
Collins responded: "You think you're going to have anxiety now? You haven't even seen anxiety. We had a jury, six people there, ready to try Mr. [Redacted], who has a prior criminal history of domestic violence. You were required to be here by a court order. You disobeyed a court order, knowing that this was not going to turn out well for the state."
G/O Media may get a commission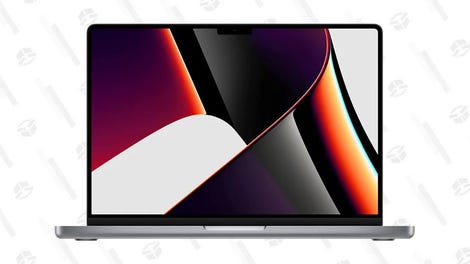 Save $300
2021 14" 1TB MacBook Pro
The woman haltingly tried to explain that she'd asked for the charges to be dropped, seemingly because of how incredibly slowly the justice system works and what a burden it had placed on her. She told the judge she'd filed for child support a year ago and it had taken a year for the man to be located.
"I'm homeless now. I'm living at my parent's house," she added. "Everything has been shut off. I had to sell everything I own. I'm just—I'm just not in a good place right now."
Collins listened with her arms crossed, then found the woman in contempt and sentenced her to three days in jail. The woman sobbed wildly as she was cuffed and begged the judge to reconsider; Collins responded by looking stonily at her computer screen and telling her, "I've already issued my order" as she was taken from the courtroom.
In a plea deal with the state Judicial Qualifications Commission in March, Collins agreed to a public reprimand. The JQC said that while Collins hadn't broken the law in jailing the woman, she violated a code of conduct, according to the Orlando Sentinel, that requires judges to be "dignified, patient and courteous."
The state Supreme Court has now also sanctioned Collins, as well as ordering her to take an anger management class and attend a domestic violence course. Collins said in court papers she's now remorseful for her actions.
---
Judge Jerri L. Collins. Screenshot via New York Daily News/YouTube, Big Time Small-Time Dicks logo by staff male Bobby Finger.