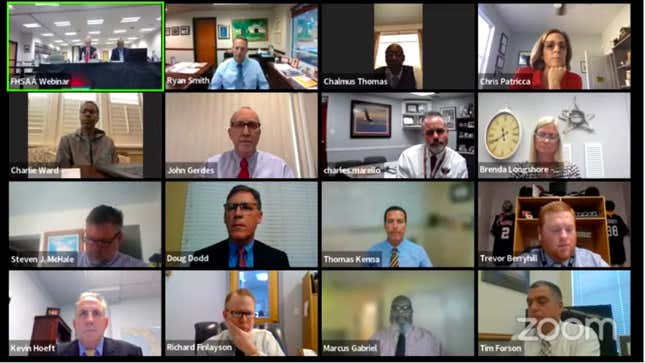 The Florida High School Athletic Association voted on Thursday to scrap a proposed change to medical forms required to participate in school sports. The FHSAA had considered adopting a national medical form that made previously optional questions about athletes' menstrual histories mandatory. Students and their doctors fill out the forms, but then schools typically keep them on file. The proposal that schools would retain menstrual information sparked backlash due to the state's attacks on transgender people and abortion access.
The group's 16-member governing board voted 14 to 2 in an emergency meeting to scrap the changes.
Before the emergency meeting, FHSAA executive director Craig Damon proposed that the group remove questions on menstrual history and only submit to schools limited information that shows whether the doctor cleared them for athletic participation and information needed for possible medical emergencies. The two votes against the recommendation came from board members Chris Patricca and Charlie Ward who agreed schools shouldn't have access to menstrual history, but thought the questions should still remain on the form for doctors to keep.
Prior to the vote, the group read comments submitted by the public. One person who identified themselves as a doctor sent a letter saying: "As a primary care physician who has filled out many of these forms, I can tell you that there is ZERO reason for a school to know anything about an athlete's period. It doesn't affect whether they can play or not. The only reason for this invasion of privacy is to weed out transgender kids who might not get periods. I can't think of a single real reason for this invasion of privacy. As a doctor, I would never fill out this form." (Of course, cisgender girls may not get periods either.)
John Gerdes, board president and director of athletics at Clearwater Central Catholic High School, also said that Florida Gov. Ron DeSantis was not involved in the proposal, as some social media reports had suggested. "I want to make clear that the governor's office had nothing to do with it. We felt no pressure from them, they did not contact us. It's our issue to deal with."

The vote is one small win in a (Floridian) swamp of shit. Congrats, everyone.