Before I met my fiancé, I believed that true love existed in clothes and not much else. A silk blouse that flowed softly like a nice dinner date, a floral sundress that swung at the hips like the prom dance I never had, a pair of tight little shorts that hugged my butt hot as sex—I hunted these things, but not love.
Now that I'm looking for a wedding dress, you can imagine the unprecedented levels of sartorial lust I'm experiencing, with a foaming mouth and red eyes and tachycardic heart. There is just so much. I've been able to rule only a few things out—shiny satin, ample rhinestones, "mermaid tops"—but that still leaves swinging before me millions of gowns on endless racks, stretching white and lush into the horizon and oozing the anxiety of promise.
Or so I thought. It turns out that the bridal gown industry, like most avenues in Weddingtopia, is one in which nothing is as it seems until you cruise on in a little deeper, until you actually have the dumb ring on and have to actually start doing research. You learn, at a closer look, that you can't have just any wedding dress, the way you can have any pair of sandals.
It is not shopping as I know it.
Because many (most!) wedding dresses cost over $2000, even though most people in America are trapped in an ever-shrinking middle class, saddled with debt, and underpaid at their jobs. Who knew? I didn't know. (My budget is $1300, $1500 super-max—I'm paying for my dress myself.) Further complicating things, many of the dresses I like are only in Australia, for some reason. And many that I like are made to only look nice on women who are six feet tall and 115 pounds. And many that I like would be out of place where I am getting married, which, you may remember, is The Maine Wedding Barn. Did I mention that many that I like are four, five, six and ten thousand dollars?
G/O Media may get a commission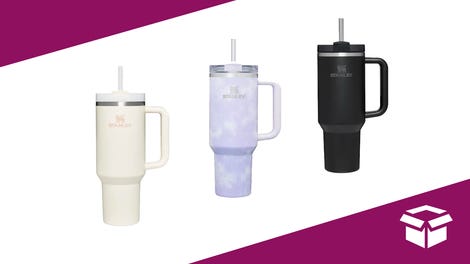 Up to 45% off
Stanley Cup Sale
These, for example, are the dresses I cannot have.
The Aimee Gown by Something Blue Vancouver for BHLDN
$2,400
Has there ever been anything so beautiful done to the back of a dress? Why has only one person thought to put a cutout of a piece of rose lace in the corner where the back strap connects, and then cover it with a second, gossamer, tulle strap? Why did the only person who thought to do this also think of charging over $2,000 for this dress? Not that I blame them; I may have done the same, if the dress-back I designed looked like soft white tears falling down the face of an angel who is crying because finally, finally she had witnessed the single good thing a human had done on Earth: creating this dress.
---
Price unknown...but probably a milli.
My glamorous friend Eva was the first person to tell me about Amsale. That was back when I thought someday I could afford to wear Amsale. That was when I found the Liza, an impeccably proportioned dress I've thought about on a weekly basis ever since. I've never seen it on a Real Bride, or on anyone outside the Amsale website, for that matter. Maybe no one can have this dress? It's as if it only exists here, on the Internet, on this nameless model, in pixel form, too perfect for real life and all its errant flakes of skin, molecular ills, smears of carbon, dog shit.
---
$3,750
Which particular fold in my brain attracts me to this kind of silhouette? The kind where I imagine a bobblehead-style spring joint connects a woman's hips to her torso? The kind that would actually make a husband laugh till he cries, probably, because it is truly the unsexiest silhouette of all time, to any man, yet the most beautiful to almost any woman? I don't know, but maybe that's why it's so expensive—only people with that much money can afford to displease so many people while pleasing themselves.
---
Approximate price: your firstborn.
Entire psychological, physiological and financial oceans—churning, noxious magma seas with sharks as big as airplanes—keep me from having this dress. I cannot afford it, my hips would explode it, the sleeves would emphasize my short neck and strange jawline, and I surely could not survive the emotional strain of going to the Reem Acra showroom and having some unfortunate attendant stuffing my nakedness into it. But here I am, googling it again, and there it goes, popping up right after I've typed the "R."
---
Price unknown, but definitely more than $3,000
I guess I'll just go to my wedding naked. Or dead.
---
Images via Getty, BHLDN, Amsale, Stone Fox Bride, and JLM Couture.