Michelle Obama, in her spirited quest to convince America's children that exercise is more fun than Playstation, is now setting out to set an exercise world record, and she's asking people all around this crazy world of ours to help her.
In order to break into the record books, the First Lady will have to get 20,425 people around the world to spend a minute continually doing jumping jacks in the 24 hour period between 3 pm EST on October 11 and 3 pm EST on October 12. The effort, spearheaded by National Geographic Kids, is called Let's Jump!
The Guiness Book of World Records takes its records seriously. It prides itself on preservation of the honor in accurately photographing and and documenting important global phenomenon like the World's Fattest Twins, and the Most Simultaneous Jumping Jacks is no exception. If you're interested in participating in the event, you can't just stand around jumping for a minute willy-nilly. There are rules; this isn't the Outback Steakhouse. According to the National Geographic Kids website,
— All jumping jacks must be done between 3 p.m. ET October 11, 2011, and 3 p.m. ET October 12, 2011.
—Each person must do jumping jacks for one full minute, nonstop. Those who don't cannot be counted.
—If your group is holding multiple events during the 24 hours, each participant may jump only once.
Each person who participates must also be diligently documented,
—Gather the following documentation:
• One Independent Witness Statement (required fill-in-the-blank Witness Statement)
• One Timekeeper Statement (required fill-in-the-blank Timekeeper Statement)
• Photos
• Videos
G/O Media may get a commission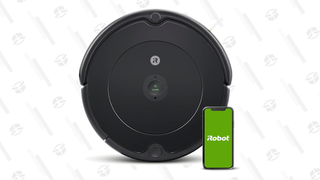 35% Off Black Friday Deal
iRobot Roomba 694 Robot Vacuum
This sounds like a great way to have fun with a bunch of your friends while promoting fitness and being active. Or, if you're inside the anti-fitness novel that Ann Coulter's probably already writing (Jumping Into Treasonous Evil), it sounds like a great way for the government to gather information on all of its citizens under 18 who are capable of doing jumping jacks for a continuous minute.
Let's Jump! [National Geographic Kids]
First Lady Targets World Record for Jumping Jacks [AP]