"A hapless man in his mid 20s....who lives in New York City" who, "throughout the series, constantly finds himself in increasingly awkward situations in both his work and personal life." Sounds like... almost all of HBO's bromance-y series lineup.
That's actually a description of the animated series, The Life & Times Of Tim, which returns for a second season next weekend. That's following the debut of How To Make It In America — Entourage east, prequel style — which also features the growing pains of a bunch of dudes around the same age and in the same place. So does Bored To Death, which aired last fall and has already been reupped for a second season. Add this to a lineup that includes Entourage and Curb Your Enthusiasm (we love Susie Essman, but she's fairly secondary or tertiary to another set of "hapless" men in "increasingly awkward situations.") Women on these shows are often relegated to acquisitions or harpies.
On the comedy side, Funny Or Die Presents, also premiering this weekend, doesn't have a single woman on its directing and writing team, which includes Judd Apatow and Will Ferrell. Flight Of The Conchords may have voluntarily expired after two seasons, but network executives had said they were open to a third. That show, you'll recall, featured hapless young men, living in New York city, in increasingly awkward situations — this time set to song.
G/O Media may get a commission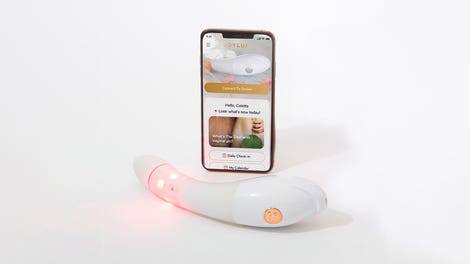 $50 Off
Joylux vFit Gold Device
Meanwhile, on the network that brought us Sex And The City, the fate of the most recent show prominently featuring women, The No. 1 Ladies' Detective Agency, has yet to be decided. You actually can find strong parts for women on HBO — but tucked into ensembles like True Blood and Big Love. But there is not a single series on the lineup in recent memory or in the near future that is focused on showing the lives of women.
It's a puzzling picture, particularly because the cable channel also seems to have less trouble showing a greater range of stories with mini-series and original movies like Temple Grandin, Grey Gardens, and the forthcoming Mildred Pierce, a five-part mini-series starring Kate Winslet as a Depression-era single mother. The documentary executives also seem aware that there is life beyond bromance (and beyond New York and LA!) with offerings like A Small Act (directed by a woman) and a documentary about Nicholas "Half The Sky" Kristof.
It's not for lack of female executive representation at the most prestigious, biggest-spending cable channel: For the last two years, Sue Naegle has been the head of HBO Entertainment. Directly under her, Casey Bloys oversees comedy (a guy, with two female deputies), and Jocelyn Diaz, who developed Ugly Betty at ABC, is responsible for dramatic series.
Nor is it for lack of pitches or shows in development that are outside the Entourage mold. We inquired a few weeks ago about the status of the Marti Noxon show about a second-wave feminist editing a sex magazine (developed for Diane Keaton), but were told there was no further information. And an assistant to writer Theresa Rebeck told us that another female-centered possible HBO property, Women's Studies, was "no longer in development." Washingtonienne, based on the Jessica Cutler book and described as "a comedy that revolves around the professional and personal lives of three smart, sophisticated twenty-something girls working on Capitol Hill," shot a pilot and then went in for an overhaul a year ago. It hasn't been heard from since, and apparently the network hasn't made a decision on it.
We're told that the pilot just wrapped for Enlightened, which stars Laura Dern as "Amy, a self-destructive woman who after a meltdown has a spiritual awakening and becomes determined to live an enlightened life, creating havoc at home and work." We'll watch for its progress, as well as that of Tilda, about a sharp-elbowed female entertainment-business blogger. And Kathryn Bigelow has just signed on to direct a pilot, though it's about the psychodrama of a male New York City creative, this time a composer.
We've asked to speak to a HBO programming executive, though it's already been indicated that they're not rushing to talk about this. We'd love for that to change.
For now, there's the below promo for Funny Or Die Presents. However ironically intended, it's hard not to see it as an approximation of HBO's current interest in women.
Kathryn Bigelow To Direct Pilot For HBO [THR]
Luke Wilson, Diane Ladd join HBO pilot [THR]
Related: Is DC Ready For Prime Time TV? [WP]
HBO Augments Entertainment Ranks [Multichannel News]
Earlier: How To Make It In America: The Poor Man's Entourage
HBO To Reveal Glamorous Lives Of Bloggers
Will Flight Of The Conchords Return For A Third Season?
HBO Gets More Lady-Friendly With Feminist Fare