In the winter of 1910, a young woman named Bessie Watkins left her small Ohio town for the big city of Cleveland. She told her family that a new job was waiting for her, and she took the train north. They would never see her again. In fact, her descendants would never even hear of her until a century later.

Bessie Watkins was my great aunt. My brother discovered her while doing genealogical research, combing through birth and death certificates, employment and census records. This mysterious relative intrigued me. Why was her name never mentioned in our family? What were the circumstances of her death? Why did she move to Cleveland alone shortly before the end of her life? I went there to see where she had lived and died, and to learn more about her.
This summer, I returned to visit Bessie's old neighborhood but also to observe the nearby demonstrations around the Republican National Convention. Protesters advocating and opposing a woman's right to choose gathered with placards and microphones. They tossed out scripture and engaged in pageantry in a precarious setting with the potential to turn violent at any moment.
A couple of weeks ago, thousands of citizens also gathered to protest Poland's proposed tightening of already strict abortion laws. The bill accepted by the nation's parliament (before they voted it down due to the opposition) threatened access to sex education, contraception, and abortion even in cases of rape. Marchers clad in black chanted, "We want doctors, not missionaries." Fans of the new legislation called them "baby killers." Under the new legislation, abortion providers in Poland would have faced up to five years in prison.
Meanwhile, back in the U.S., vice presidential candidate Mike Pence defended the GOP's pro-life platform which protects the sanctity of the every unborn child. He also defended the stance of his running mate, Donald Trump, who said that women who get abortions should be punished. In 1910, abortion providers were punished. Women who underwent the procedures were isolated and ashamed. The prohibition of abortion, of course, did not stop abortion. It just pushed it underground. Four years after Bessie's death, Margaret Sanger would coin the phrase "birth control." In another two years, she would create Planned Parenthood.
G/O Media may get a commission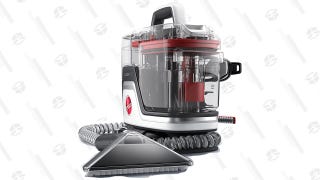 Save $10
Hoover CleanSlate Plus Carpet & Upholstery Cleaner
This issue remains one of the country's most divisive, and the upcoming election raises new questions: Will abortion become fully illegal again? Could the constitutional right of women to control their own bodies change when that empty Supreme Court seat is filled? My great aunt Bessie Watkins isn't around to ask these questions, so I'm asking for her.
Kelly Bancroft writes and teaches in Youngstown, Ohio.