On Tuesday, Politico reported that an organization backing the new magazine endeavor of former New Republic literary editor Leon Wieseltier withdrew its funding upon learning of his alleged "past inappropriate workplace conduct."

The new publication, Idea, which according to the New York Times was to debut next week, was supported financially by the Emerson Collective, a company belonging to Laurene Powell Jobs, the widow of Steve Jobs. The Emerson Collective released a short statement on Tuesday, saying, "Upon receiving information related to past inappropriate workplace conduct, Emerson Collective ended its business relationship with Leon Wieseltier, including a journal planned for publication under his direction. The production and distribution of the journal has been suspended."

The Times reported on Tuesday that in the past week a group of women who formerly worked at The New Republic—where Wieseltier was a prominent editor for three decades before executing a dramatic departure three years ago—began an email chain, in which several of them shared that they had been sexually harassed by Wieseltier in the workplace (this is according to a Times source who claims to have seen the chain). The allegations include Wieseltier kissing several women "sloppily" on the mouth, sometimes in view of other staffers, and asking female coworkers about their sex lives.

Politico also reported that Wieseltier was accused of "workplace harassment" on the anonymous "Shitty Media Men" list, but it's unclear which allegations Emerson heard about and acted on.

Wieseltier responded to the allegations and shuttering of his publication with a remorseful statement:

"For my offenses against some of my colleagues in the past I offer a shaken apology and ask for their forgiveness. The women with whom I worked are smart and good people. I am ashamed to know that I made any of them feel demeaned and disrespected. I assure them I will not waste this reckoning."
G/O Media may get a commission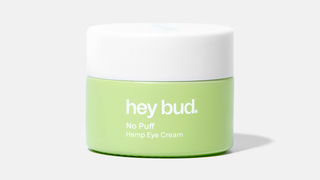 15% off
Hey Bud - No Puff Hemp Eye Cream
On Tuesday, former owner of The New Republic, Chris Hughes, said in a statement to Politico that he'd briefly investigated Wieseltier's behavior after a building manager told him that an employee of the building's management company claimed Wieseltier sexually harassed her. Hughes said:

"In October of 2014, The New Republic received notice from the building management company of our Washington office that an employee of the building had experienced unwanted sexual advances and harassment by the literary editor Leon Wieseltier. Our CEO and I immediately moved to ensure that the woman was protected by bringing in outside counsel to investigate the situation. Representatives from the building made clear to us that the woman in question had not submitted a complaint, but another of their employees had been concerned. We directed Mr. Wieseltier to immediately cease any communication with her, and I made sure he knew The New Republic had a zero-tolerance policy for sexual harassment of any kind."
Finally, I'd like to direct your attention to this ferocious own that Ta-Nehisi Coates delivered when the news of Wieseltier's failed venture first broke.