The Hollywood Reporter has tipped a tepid toe into the still-raging waters of the #MeToo moment and decided that right now would be a great time for a friendly, entirely sympathetic piece exploring the ways Louis C.K. can make his comeback. The piece comes five months after C.K. finally admitted, following years of rumors, that he masturbated in front of people who did not want him to. The comedians interviewed—most of them men, all of them very sorry for C.K., none of them the women he jerked off in front of—agree that his offenses should not merit a "life sentence," or, indeed, even a year-long one.

Ana Gasteyer Satirizes the Girl Boss in 'American Auto'
Written by Stuart Miller, the piece declares a "consensus" (among the people interviewed by Stuart Miller) that C.K. can and should be allowed to make a comeback after his miserable five months of masturbation-based exile.
But no quote has ever been proven false more often than F. Scott Fitzgerald's declaration that there are no second acts American lives, so the question is not really whether C.K. will eventually come back but when, where and how.

The consensus is that while his behavior was clearly wrong it was not at the level of a Harvey Weinstein, James Toback or Bill Cosby. Comics and club owners alike agree with Gilbert Gottfried's opinion that "there are different levels of misbehavior" and the public understands the difference.
Miller adds that the comeback will likely involve C.K. performing in comedy clubs, a stellar insight when we're discussing a comedian. And it finds time to quote two women: Judy Gold, who appeared on C.K.'s TV show, and who's quoted as saying, in full: "He's not going to come out and talk about climate change." The other is Aida Rodriguez, a comedian whose act is described as "fierce on female empowerment" and who opines that C.K.'s revamped act could maybe save a few women from sexual assault.
Aida Rodriguez, whose comedy is fierce on female empowerment, recently ran into C.K. at a restaurant. "I could tell he was shocked I said hello," she says. "But if we stay on a war footing with this, we'll never find solutions."

Rodriguez says C.K.'s audience was not only huge but was filled with young men. "He has the chance to atone and to educate," she says. "If he uses the opportunity to address his shortcomings, maybe he can change a few minds among his fans and maybe he can save a couple of girls from unnecessary and unwanted incidents."
G/O Media may get a commission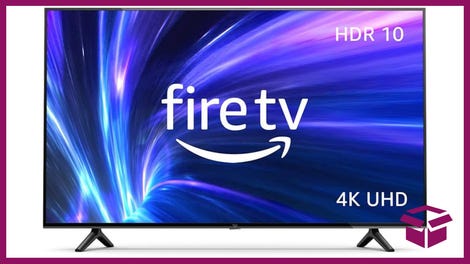 42% Off
Amazon Fire TV 50" 4K Smart TV
There has never been a better time to ask a followup question than when someone tells you that Louis C.K.'s comedy can keep women from "unneccessary and unwanted incidents."
THR's coverage of the #MeToo moment has been frequently sympathetic towards the men exposed for sexual harassment and assault, including, somehow, Harvey Weinstein, who it described in a profile as "complex" and "opaque" and who it took pains to point out had a mean, "hovering" mom. A November piece that mentioned Weinstein, Kevin Spacey, and James Toback—all men with years of harassment and assault allegations against them—wondered if a "Hollywood witch hunt" was brewing. Its coverage of the Weinstein scandal managed to elide the women reporters who helped break it, Jodi Kantor and Megan Twohey of the New York Times, in favor of a breathless and glowing piece on Ronan Farrow. And a recent profile of disgraced CBS star Charlie Rose involved talking to his friends about how he's been doing after eight women accused him of harassment, groping, and walking around nude in their presence. The profile managed to conclude that Rose is "brilliant" and "desperately lonely" and taking on the most challenging interview of his life or something:

These days, as Boies tells THR, Rose has taken on his ultimate assignment: "He's one of the best interviewers in our lifetime, and he is now asking questions of himself."

Though his journalistic accomplishments remain unassailable, Rose must carve out a path in uncharted territory when it comes to earning back his good name, say friends and even one accuser.
Speaking of Kevin Spacey and sympathetic-man stories more generally, it must, of course, be purely coincidental that the company that produces House of Cards, Spacey's former show, and the company that owns The Hollywood Reporter are in fact the same company. The newly-formed Valence Media was created in February, when media investor Todd Boehly decided to reshape his properties into one corporate entity. Besides Media Rights Capital (the House of Cards producer) and THR, Boehly's Valence Media also incorporates what used to be Dick Clark Productions, which is best-known for its "Rockin' New Years Eve" broadcast. That broadcast was hosted this year by none other than Ryan Seacrest, who was first accused of sexual misconduct by his former stylist Suzie Hardy in November. (Hardy detailed the allegations in February.)
This latest C.K. piece runs the same day as another Stuart Miller piece, this one exploring how male comedians are behaving differently post-#MeToo. The partial answer, if you must know, is that they are increasingly concerned about "political correctness," more "self-conscious in conversation" around women, and, yes, "loath to offer strong opinions anymore." Both stories quote Gilbert Gottfried, who, in the C.K. piece, jokingly adds, "The thing that to me was shocking and hurtful when I heard about Louis C.K. was that he never once invited me to his hotel room to watch him masturbate."
Which raises an interesting idea: perhaps these guys could just stay quietly at home for a few more months and jerk each other off. Comedy and society at large will probably survive.