When Kelly Marcel was first signed on to write the script for the Fifty Shades of Grey film adaptation, she was excited. "I... agreed to read the book and read it and then, having read it, much like you, I was like, 'Oh, this is a movie and it's something really, really interesting,'" she told Bret Easton Ellis on his podcast.
Marcel, who also wrote Saving Mr. Banks, was brought onto the project for a very specific reason. The studio and director Sam Taylor Johnson thought that she could make the characters of Anastasia Steele and Christian Grey more three-dimensional than they were in the books. and that she could give life to author E.L. James' particularly flat story.
What she ended up writing played with the story's structure and stripped away some of James' trademark corny dialogue:
"I didn't want it to be linear. I wanted it to begin at the end of the film and for us to kind of meet in the middle and, so, you start with the spanking and have these sort of flashes that go throughout the film. You know, because we had a problem in the third act, I felt like if you moved times that might help the situation. I wanted to take the 'inner goddess' out, and you know, all of [Ana's] inner monologue. And [filmmakers] were cool with that.

...You know, I wanted to remove a lot of the dialogue. Like, it could be a very sexy film if there wasn't so much talking in it. And so that's really the script that I initially delivered. And it was quite dark, the first draft I wrote... It very much concentrated on Christian's pain.
But soon, she realized that the studios desire to make something cool and watchable was not as big as their desire to keep E.L. James happy and create a blockbuster:
"I very much wanted to do something different with the screenplay, and when I spoke to the studio and the producers and made that quite clear, they were very enthusiastic about that and kind of loved the things I wanted to do. When I delivered that script was when I realized that all of them saying, 'Yeah, absolutely this is what we want,' and, 'You can write anything you like and get crazy and artistic with it' — that was utter, utter bullshit."
G/O Media may get a commission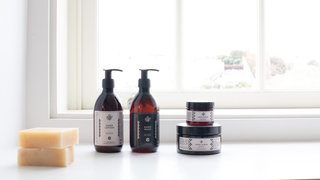 Exfoliate and Hydrate
The Handmade Soap Company
While Marcel receives sole recognition for the screenplay in the film's credits, she was eventually replaced by Mark Bomback, a screenwriter who primarily works on action movies, and Closer writer Patrick Marber.
Up until the time of her interview with Ellis, she still hadn't seen the film. "My heart really was broken by that process, I really mean it," she says. "[It's not that] I don't see it out of any kind of bitterness or anger or anything like that. I just don't feel like I can watch it without feeling some pain about how different it is to what I initially wrote."
While reminding yourself that Bret Easton Ellis exists is never a pleasant experience, his full interview with Marcel is interesting and worth a listen, especially if you're curious about how screenwriting works and want to hear some good behind-the-scenes Fifty Shades dirt in the process. You can listen to it here.
---
Contact the author at madeleine@jezebel.com.
Image via Fifty Shades of Grey/Universal Studios.